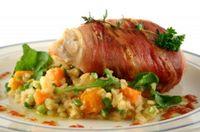 Chicken Breast Recipes Collection
Breast Chicken Recipes - Gourmet to Easy
Looking for some great Chicken Breast Recipes? Chicken Breast meat is an excellent choice for dinner. Packed with protein, selenium, niacin and B6 vitamins, chicken is the low-fat meat for limitless dishes.

It's extremely versatile so whether baked, sautéed, roasted, shredded or stir-fried, it's easy to see why chicken breast is one of the most popular choices when looking for chicken recipes.
Have fun experimenting with versatile chicken breast recipes, and you'll realize the possibilities for new recipes are endless!
Our "Cooked Up" Newsletter
You might love to receive our personal newsletter called Cooked Up. It's packed with great recipes, cooking tips and other interesting news. I invite you to safely subscribe in the form below..... Oh and of course it's free!
Chicken Recipe Search Tool
If you can't find what your're looking for, you might want to try our easy-to-use Chicken Recipe Search Box. You can also use it to find anything else you might want to search for on the wider web.


Top of Chicken Breast Recipes

Chicken Recipes Homepage