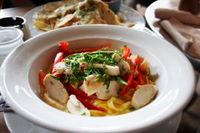 Chicken Pasta Recipe
Grilled Chicken Breast With Tagliatelle & Baby Tomatoes
I tried this Chicken Pasta Recipe for a light summer lunch and it worked so well. I love tagliatelle, it seems to makes a meal feel more elegant.
I also appreciate a boneless chicken breast recipe because they are easy to cook and you can experiment with the flavours of the seasonings without compromising the meat.
Tagliatelle with grilled chicken breast and tomatoes
I added the teaspoon of garlic myself because we love garlic in my family but you can leave it out if you prefer. I also prefer to add sugar to my recipes as it brings out the flavours of the tomatoes and lemon but it's also optional.
This is a fairly low-fat chicken recipe too so it's good for a healthy meal idea and no thick, creamy sauce.


SERVES 4 – PREP 10 mins. COOK 12-15 mins
500g/ 1lb 2ox skinless chicken breasts
zest and juice 1 lemon
1 tbsp chopped tarragon or 1 tsp dried
salt and pepper for seasoning
1 teaspoon crushed garlic (optional)
1 teaspoon sugar (optional)
2 tsp olive oil
8 small tomatoes, halved
300g/ 10ox tagliatelle
How To Cook This Tomato Chicken Pasta Recipe
Preheat the grill to high. Coat the chicken breasts with the lemon zest and juice, tarragon, sugar, salt and pepper. Spread the garlic over the bottom of a shallow ovenproof dish or roasting tin, then place the chicken pieces on top of the garlic in one layer.

Brush lightly with a little oil, then grill for 6 minutess. Turn the chicken over, then add the tomatoes to the dish, cut-side up, brushing them lightly with oil. Grill for a further 6-8 mins until the chicken is cooked and lightly browned the tomatoes are tender.

Get the pasta cooking in a large pan of boiling water according to the pack instructions.

Drain well, reserving 150ml of cooking water, then return to the pan. Remove the chicken from the roasting dish and cut into chunks.

Add the chicken breast chunks to the tagliatelle with the tomatoes, reserved cooking water and pan juices. Toss everything together gently and serve.

If you're a cheese addict like me then you can serve with grated cheese. I'm particularly fond of Parmesan cheese on pasta.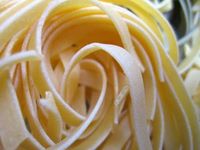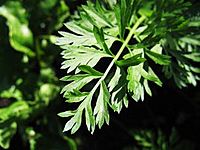 Low Fat Chicken Recipes Mainpage

Chicken and Asparagus Pasta Bake



Top Of This Chicken Pasta Recipe

Great Chicken Recipes Homepage