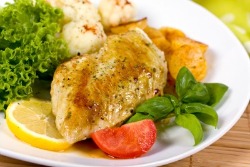 Italian Chicken Recipes
Stuffed Chicken Breasts
I love Italian Chicken Recipes, especially if they have mozzarella cheese and garlic in. I thought I'd try something different with these stuffed chicken breasts and leave out the Parma ham or prosciutto that seems to be included in so many of these Italian type recipes.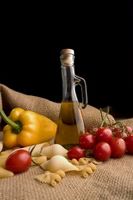 Stuffed chicken breasts are elegant to serve but simple to make and look far more "gourmet" than they really are. The combination of sun dried tomatoes, garlic, basil and mozzarella works very well in this chicken recipe.
The messy part is trying to stuff the chicken breasts and then secure them with the toothpick. Some chefs suggest using string to tie around the stuffed chicken breasts but a toothpick works for me. The melting mozzarella might ooze out in the baking process.
The sliced tomatoes on top helps to keep the chicken breasts moist and succulent. The roasted tomatoes also make delicious juices that can be mopped up with a crusty bread.
Italian Stuffed Chicken Breasts
Serves: 4
30ml sun-dried tomatoes, chopped
1 garlic clove, crushed
15ml fresh basil, chopped
200g Mozzarella Cheese, grated
4 large chicken breasts
4 olives
salt and ground black pepper
3 medium ripe tomatoes sliced
olive oil to drizzle
How to Make Italian Stuffed Chicken Breasts
Heat the oven to 200 degrees C.
Mix the sun-dried tomatoes, garlic, basil and Mozzarella cheese in a small bowl.
Cut a slit down the side of each chicken breast so that a pocket is formed to hold the filling mixture.
Stuff each of the chicken breast pockets with a quarter of the mixture and then stuff one of the olives into each chicken breast.
Secure each stuffed chicken breast opening with a toothpick, and place them on a baking tray.
Season the chicken with salt and pepper. Place the fresh tomato slices on top and drizzle with a little olive oil. Bake the stuffed chicken breasts in the oven for 20 minutes.
Serve the Italian stuffed chicken breasts with green salad and crusty bread to soak up the juices.
Our "Cooked Up" Newsletter
You might love to receive our personal newsletter called Cooked Up. It's packed with great recipes, cooking tips and other interesting news. I invite you to safely subscribe in the form below..... Oh and of course it's free!
More Great Italian Chicken Recipes
Italian Roast Chicken Recipe
Chicken Tortilla Soup Recipe
taken from our
Italian Chicken Recipes Collection
Chicken Parmesan Recipe
Top Of This
Italian Stuffed Chicken Breast Recipe
page.
Chicken Recipe Search Tool
If you can't find what your're looking for, you might want to try our easy-to-use Chicken Recipe Search Box. You can also use it to find anything else you might want to search for on the wider web.
Great Chicken Recipes Homepage