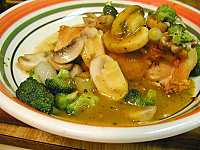 Crock Pot Chicken Casserole Recipe
Winter Warmer Slow Cooker Casserole
This is another easy crock pot chicken casserole recipe to try in your slow cooker. Chicken Casseroles go well with rice or couscous. Basmati rice is one of my favourites. I always add a teaspoon of sugar to the Basmati when it's done to bring out the flavour.



Slow Cooker Casserole Ingredients
1½kg (3lb) chicken breast
25g (1oz) butter
2 onions sliced
2 celery sticks, chopped
2 small green peppers, sliced
2 Leeks sliced
250g button mushrooms, halved
1 tablesppon (15ml) flour
375ml (15 fl oz)
Salt and pepper
Crockpot Chicken Casserole Cooking Instructions
Melt the butter in a large pan and brown the chicken pieces. cook them for a further 10 minutes. Place them in the crock pot. In the same pan, fry the vegetables for 5 minutes,remove and place in the crock pot around the chicken.
Stir flour into the remaining fat in the pan. Season with saltand pepper and slowly add the chicken stock. Bring to the boil and then pour over the ingredients in the crock pot.
Cover and cook for about 3 - 4 hours. Serve with rice.


---
Revealed: America's Secret Restaurant Recipes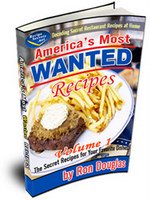 Looking for ideas for dinner?
Get inside the hidden cookbooks of America's favorite restaurants. The secret recipes for over 100 all-time favorite dishes have now been revealed in this best-selling new cookbook.
Prepare dishes you know they'll love and save money by easily making them at home.
Get free sample recipes just for visiting the site.
See the full list of Americas Most Wanted Secret Recipes
More Great Ideas For Crock Pot Cooking
Chicken Recipe Search Box
If you can't find what your're looking for, you might want to try our easy-to-use Chicken Recipe Search Box. You can also use it to find anything else you might want to search for on the wider web.


Crock Pot Recipe Books to inspire you with great ideas for your crock pot.

Crock Pot Cacciatore Recipe

Other Chicken Stews and Casserole Recipes

From Crock Pot Chicken Casserole Recipe back to Crock Pot Recipes Mainpage

Great Chicken Recipes Homepage