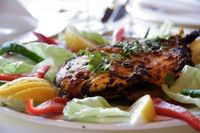 Baked Balsamic Chicken Recipe
Baked Balsamic Chicken Breast Recipe
The flavor of this Baked Balsamic Chicken Recipe is delicious. It's an easy chicken breast recipe to prepare. It uses skinless, boneless chicken breasts and the advantage is that chicken breasts cook faster and are lower in fat. The flavour of the resulting juices is just wonderful, especially if you like the tang of Balsamic vinegar.


Baked Balsamic Chicken Recipe Ingredients
Serves 2 - 4
4 skinless chicken breasts
4 rashers back bacon or proscuitto
2 tsp Italian mixed herbs
2 cloves garlic, minced
4 Tbsps extra virgin olive oil
2 Tbsps balsamic vinegar
2 Tbsps White wine
2 punnets cherry tomatoes
ground black pepper
Recipe Cooking Instructions
Preheat your oven to 200 C (350 F).
Wrap the bacon around each chicken breast and put them in an oven-proof dish. Sprinkle with herbs and place the tomatoes over the top.
Mix the garlic into the olive oil and then pour the olive oil, white wine and balsamic vinegar over the chicken breasts and bake in a hot oven for about 45 minutes to 1 hour. The tomato skins should just be starting to blacken. You should baste the chicken about 20 minutes into the cooking time and then return to the oven to bake for the remaining time.
Serve the baked chicken breasts and the delicious pan juices with pasta, salad and ciabatta bread.


More Chicken Marinade Recipes

Baked Chicken Recipes Mainpage



Chicken Recipes Homepage