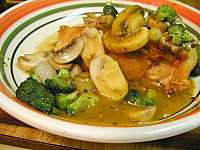 Classic Chicken Marsala Recipe
A good Chicken Marsala Recipe is a classic Italian Chicken Recipe and is an extremely popular chicken-in-sauce recipe. It is a dish of sauted chicken covered in a rich sauce made with Marsala, a rich fortified wine from Sicily. This recipe for chicken breast has become a favourite dinner idea in many homes.

Variations of this chicken and wine sauce recipe abound. Below is my version of the famous chicken breast recipe that can be served with rice or pasta. It's easy to prepare and takes about 40 minutes to make.
There is a gourmet version called Perfect Chicken Marsala. It's a bargain recipe ebook (so you can download it) that is jam packed with good chicken marsala cooking tips such as:


Mistakes to avoid when preparing Chicken Marsala.
The missing ingredient in most Marsala Recipes.
Best preparation techniques for the chicken.
and much more.
This recipe ebook is really for those who want to take their cooking skills to new levels and learn the secret to making great sauces, not just Chicken Marsala but for beef and seafood too.
Chicken Marsala Recipe Ingredients
4 chicken breast fillets
quarter cup of seasoned flour
2 tablespoons oil
1 cup sliced button mushrooms
1 large onion, peeled and finely chopped
1 cup chicken stock


1 cup Marsala wine

half cup of cream
How To Make Chicken Marsala
Place the seasoned flour in a bag and then coat each chicken breast with flour by shaking them in the bag.
Heat the oil in a pan and cook the chicken until lightly golden and cooked through. Put the chicken aside and cover to retain heat.
Brown the mushrooms and onion in the pan and then add the combined chicken stock and Marsala. Simmer over a low heat for 5 minutes.
Stir in the cream and then simmer until the sauce thickens. Pour over the chicken breasts. Serve this easy chicken breast recipe with
rice or pasta.


Tuscan Garlic Chicken Recipe

Top Of Chicken Marsala Recipe



More Chicken Marinade Recipes

Chicken Recipes Homepage