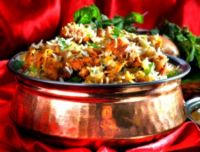 The Indian Butter Chicken Recipe is also known as Murgh Makhani - a meal fit for a king. This is a lovely Indian Chicken Dish.
The chicken is marinaded in a spicey yogurt mix for a few hours, preferable over night and then baked or roasted in the oven. It is a popular chicken dish all over the world and definately worth a try if you enjoy Indian cuisine.
The first Indian Butter Chicken Recipe below is a good one for you to try out your Indian cooking skills. I think it's the cinnamon and chilli paste that make this a special chicken recipe. The second recipe is more simple but still has great taste.


Indian Butter Chicken Recipe
Serves 4
Chicken Curry Ingredients
1.5 lb chopped Chicken breast
3 tablespoon butter
¾ cup chopped tomatoes
1 chopped onion
¼ cup ground cashew nuts
¼ cup ground almonds
1 teaspoon ginger paste
1 - 2 teaspoon chili powder
1 teaspoon ginger paste
1 teaspoon garlic paste
2-3 inch piece of Cinnamon stick
¼ teaspoon turmeric powder
Salt for seasoning
How to Cook Indian Butter Chicken
Melt 2 teaspoons of the butter over medium heat and fry the onions and the cinnamon sticks until the onion turns transparent.
Stir in the turmeric, chili, ginger and garlic paste, salt and a little water to the onions and cinnamon. Heat for a minute then add the tomatoes and stir for another 3 minutes.
Add the cashew and almond paste and enough water to make it into a thick gravy.
When the mixture starts to boil, add the chicken and cook until done.
Pour over the remaining butter and serve with rice.
---
Indian Butter Chicken Recipe 2
Serves 4 - 6
Ingredients
1 kg (2 lb) skinless, boneless chicken thighs
chilli powder according to your taste
1 Tbs fresh ginger, grated
3 cloves crushed garlic
75g blanched almonds
150 ml plain low-fat yoghurt
5 Tbs melted butter
1 onion, sliced
4 Tbs freshly chopped Coriander leaves
4 Tbs cream
Cooking Indian Butter Chicken
Combine the chilli powder, ginger, garlic, almonds and yogurt in a food processor and blend until smooth. Pour the marinade into a ziplock bag or dish and place the chicken in to marinate for at least two hours in the fridge.
Preheat the oven to 180 degrees C (350 F)
Heat the butter in a frying pan and saute the onions until softened and turning brown.
Add the chicken with the marinade to the pan and fry for 2 minutes. Stir through the corinader and the cream.
Transfer the chicken and the sauce to a baking dish, cover and bake for 1 hour.
Just before serving spoon off any excess fat and then turn on the grill to brown the top of the food for about 2 minutes. Serve with naan bread.

Enjoy this Great Indian Chicken Dish








Chicken Recipe Search Tool


If you can't find what your're looking for, you might want to try our easy-to-use Chicken Recipe Search Box. You can also use it to find anything else you might want to search for on the wider web.





Top of Indian Butter Chicken Recipe page.



a href="https://www.chicken-recipes-made-easy.com/butter-chicken-recipe.html">Another Indian Butter Chicken Recipe



Chicken Curry Mainpage

Chicken Recipes Homepage