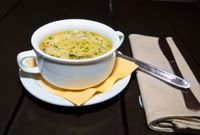 Chicken Soup Recipe
Chicken Soup Recipes For Fabulous Flavour Combinations

You can hardly go wrong with a delicious, homemade chicken soup recipe. From a classic Homemade Chicken Noodle Soup Recipe to a hearty Chicken Tortilla Soup Recipe ,the thought of chicken soup really can invoke a cosy and comfortable feeling like a good old friend.
Serve velvety Chicken Soup With Warm Crusty Bread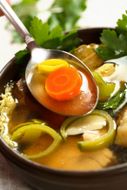 Benefits of Chicken Soup

If a book series by that name aimed at the soul can be so popular then there must be something about chicken soup.
Soup is a wonderful dish to serve because the variety in colour and flavour for different recipes makes it interesting to experiment with. Soup is deliciously simple to prepare, quite a cheap meal idea, very nutritious and easy to digest. You even get a variety in flavour when different cooks use the same recipe.
Most chicken soup recipes can be served as a meal in themselves with warm bread and perhaps a salad.
A basic chicken soup consists of a clear broth, it can include small pieces of chicken or vegetables. To give it a bit more substance it can also be served or with pasta noodles or dumplings, rice and barley are popular too. It can also be thickened with cream, milk, yogurt or coconut cream for curry soups.


"Chicken Soup For The Cold."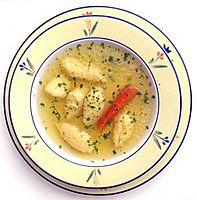 Prepare more chicken soup than you need and freeze what's leftfor a ready-made meal at a later date. What a time saver for a busy mom.
Enjoy Uncomplicated Chicken Soup Suppers
When your grandmother told you chicken soup was a remedy for a cold, she was not wrong. Studies show that chicken soup can ease the inflammation caused by coughs and colds as it contains some anti-inflammatory properties.
If you are not averse to trying new things you might want to consider adding chicken feet to your cooking soup. It will add extra flavour and gelatinous body to the soup. Buy fresh ones at a market and scald in hot water to remove the skin and toenails before adding to the soup. Remove the chicken feet when the soup is cooked.


Chicken Soup Recipe Tips
Soup garnishes add colour, texture, contrast and flavour to the meal.
Keep garnishes simple - their flavour should never overpower the original flavour of the soup.
Fried onion rings, Chinese noodles and a variety of nuts add delicious, crunchy texture and flavour to soups. They also make them more filling so they ban be served as a main meal instead of a light starter.
Sour cream, creme fraiche, Ricotta cheese, Mascarpone and chucnks of blue cheese are refreshing garnishings for spicy soups.
Common garnishes for soup recipes are a sprinkle of paprika, chopped fresh parsley, chopped spring onions, chopped chives, coutons, dumplings and tortilla chips.


Chicken soup is a very international dish and every country has their own version. It is a common base to many Chinese / Asian soups flavoured with their trademark flavourings of ginger, spring onions, black pepper, soy sauce, rice wine and sesame oil. It's a traditional Greek hangover remedy and includes milk, lemon juice, rice, eggs and butter.
Crock Pots and Slow Cookers also make wonderful chicken soup. Try out these easy Slow Cooker Recipes.
A number of chicken soup recipes require chicken stock as a mainingredient. This can be purchased or make your own with our easy chicken stock recipe.


Our "Cooked Up" Newsletter
You might love to receive our personal newsletter called Cooked Up. It's packed with great recipes, cooking tips and other interesting news. I invite you to safely subscribe in the form below..... Oh and of course it's free!
Delicious Chicken Soup Recipes




Choose from three Chicken Noodle Soup Recipes

Comforting and healing Chicken Noodle Soup with garlic and ginger

Chicken Tortilla Soup Recipe

Creamy Chicken and Asparagus Soup Recipe

Traditional Scottish Cock-A-Leekie Soup Recipe

Tom Kha Gai or Chicken Coconut Soup is a delicious and simple Thai soup to make.

Delicious for winter Chicken Corn Soup Recipe

Tarragon Chicken Broth Recipe With Tomatoes

Chicken Curry Soup Recipe

Quick and Easy Asian Chicken Soup Recipe




Find Your Favourite Chicken Soup Recipe
If you can't find what your're looking for, you might want to try our easy-to-use Chicken Recipe Search Box. You can also use it to find anything else you might want to search for on the wider web.