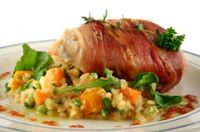 Stuffed Chicken Breast Recipe
Stuffed Chicken Breasts and Couscous Salad
This is a fairly simple Stuffed Chicken Breast Recipe. It's served with a cousous salad and will have your guests thinking that you are a gourmet chef.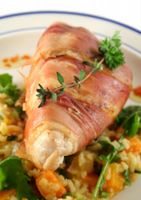 In the heat of summer it's so helpful to have great chicken recipes like this around for when guests come over. The couscous salad makes it a light and delicious lunchtime meal. It does require boneless chicken breasts and a little preparation time.
The bacon and pesto are a perfect combination with the boneless chicken breast meat and they really do burst with flavor.
If you prefer your chicken with rice then you could also make a nice risotto using rice instead of couscous.
Stuffed Chicken Breast Recipe Ingredients
4 chicken breasts, boneless and skinless
150g ricotta cheese
¼ cup spring onions, chopped
¼ cup pesto
12 strips bacon
200g wholewheat coucous
200 ml chicken stock
1 red onion, chopped
1 yellow pepper, chopped
½ cup each of chopped parsley, mint and coriander
juice of 1 lemon
olive oil
salt and pepper
How to Make Couscous Chicken Salad
Preheat oven to 200 deg C or 400 deg F (gas mark 5).
Make sure your stock is really hot and pour over the couscous. Cover and leave for 10 minutes to absorb the liquid.
Mix the ricotta cheese, spring onions and basil pesto together in a bowl.
Butterfly the chicken breasts and season with the salt and pepper. On a lighlty oiled baking tray, lay three strips of bacon and then place achicken breast on top of the bacon.
Place a generous spoonful of the ricotta mix on the chicken breast and roll the breast and bacon up from the tail end. Secure with toothpicks.
Roast / bake the stuffed chicken breasts for about 25 minutes until cooked through and the bacon is crispy.
Fluff the couscous with a fork and add the chopped onion, peppers, herbs and lemon juice. Drizzle with a little olive oil and season to taste.
Serve the stuffed chicken breasts with the coucous salad. It's an easy chicken breast recipe and makes a delicous lunchtime meal idea or a summer dinner idea and homemade is always appreciated.


Full list of Chicken Breast Recipes Collection



More Great Chicken Salad Recipes

Top of Stuffed Chicken Breast Recipe

More Baked Chicken Recipes



Chicken Recipes Homepage