Chicken Alfredo Sauce Recipe
Homemade Chicken Fettuccine
Alfredo Sauce Recipe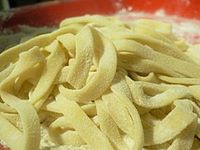 Fettuccine Alfredo! Say it loudly in an Italian accent and wave your hands about. Chicken Alfredo Sauce Recipe. You'll feel truly Italian and inspired to try this delicious but rich, world-famous sauce. This Homemade Alfredo Sauce Recipe gets it's own main page because I think it deserves that kind of respect.
Some people actually rate Italian restaurants according to their Alfredo sauce. Definately not diet friendly but it's oh so must eat it.
Secret Alfredo Sauce Recipe


The exact original recipe remains a secret...but there are a lot of Alfredo Sauce Recipes to be found. They are fairly simple to follow and easy to make and always receive great praise. Homemade is the best but as with most things you can also buy Alfredo sauce in a bottle at the store.
The basic Alfredo Sauce Recipe is a heated mix of butter, cream and Parmesan cheese. From this basic recipe, many variations have arisen and optional seasonings added according to the taste of the cook. Alfredo Sauce is also quite versatile and is especially good when used in seafood recipes.

The better quality ingredients will give a better result. Authentic Parmigiano Reggiano is ideal but ordinary Parmesan will do fine. The Fettuccini should ideally be fresh (this cooks in about 2 minutes) but if you buy dry Fettuccine then try to get the thinnest available. The original recipe also calls for double cream but the other night I made this with reduced fat cream because I have gallbladder issues and the sauce was my best ever.
I have tried to keep this Homemade Alfredo sauce recipe simple with as few variation as possible. I just couldn't leave out the garlic but you can if you prefer. There are some suggested variations below the basic Alfredo sauce recipe.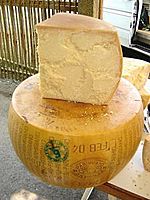 How to make Fettucini Alfredo
Serves 4 - but I understand if you need to eat it all yourself.
Chicken Alfredo Sauce Recipe Ingredients
3 skinless chicken breasts
2 Tbs olive oil
2 tsp crushed garlic (optional for sauteing chicken)
4 Tbs butter
1 cup heavy cream
1 cup grated Parmesan (Parmigiano Reggiano)
8 oz Fettucine Pasta (or enough to feed 4 people)
salt to your taste
a little ground black pepper to bring out the taste
a little sugar to taste
dash of nutmeg
Chicken Alfredo Sauce Recipe Cooking Instructions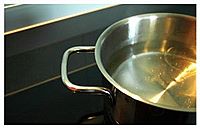 The Fettucine You first need to get the pasta cooking and I'm assuming that you know how to do so, so just follow the instructions on the fettuccini packet. When the fettuccine is done, drain it and set it aside.
The Alfredo Sauce
Melt the butter over a low heat in a pot that will be large enough to hold the pasta at the end of the cooking.
Slowly add the cream and stir continually with a spoon until it is hot but not boiling and has reduced slighty.
Now add the Parmesan cheese a little at a time and stir until it is all melted. The sauce may take quite a while to thicken, keep stirring and don't let it boil. Add the seasonings (including the sugar) according to your taste.
The Chicken
While the Fettucine is cooking you can prepare the chicken breasts. Heat the olive oil in a frying pan and saute the chicken and garlic until the chicken juice runs clear and the chicken is done.
Once the Alfredo sauce is done, stir in the cooked chicken and then add the cooked pasta to the Alfredo and chicken.
For more delicious pasta recipes, I highly recommend you visit my friend Matt's Pasta Recipes Made Easy website.
Chicken Alfredo Sauce Recipe Variations and Tips

The basic Alfredo Sauce Recipe is very nice served over vegetables like broccoli cauliflower and beans.
Some cooks like to thicken the sauce by adding a 1/2 package of cream cheese. Try to avoid thickening with flour or cornstarch, it does spoil the flavour. You can also try adding more parmesan cheese and cooking it for a little bit longer, this works for me.
Do try to use unsalted butter otherwise the sauce can turn out quite salty especially with the strong flavour of the parmesan.
Nutmeg might seem like a strange addition but it does make a huge difference in the wow factor for the Chicken Alfredo Sauce Recipe.
For something different saute bacon and mushrooms in garlic and serve it with the Chicken Alfredo Sauce Recipe.
A variation for the chicken alfredo sauce recipe that I now stick with is using reduced fat cream instead of double cream. I then add to this about 2 tablespoons of garlic flavoured extra virgin olive oil.

As it heats up I grate in the Parmesan cheese. I find that the reduced fat cream thicken nicely but if it boils it curdles so you have to watch it carefully. I then served this over raviolli stuffed with chicken and mushroom. My seasonings were a bit of salt and pepper, the all important dash of nutmeg and a teaspoon of sugar. Enjoy your Homemade Alfredo Sauce.
Chicken Recipe Search Tool
If you can't find what your're looking for, you might want to try our easy-to-use Chicken Recipe Search Box. You can also use it to find anything else you might want to search for on the wider web.

Tuscan Garlic Chicken Recipe like Olive Garden Restaurant is another popular Italian Chicken Recipe.

Chicken Caesar Salad also uses Parmesan Cheese as a main ingredient

Chicken Parmigiana is another tasty Chicken Recipe using Parmesan Cheese

See my tips for cooking chicken and buying chicken.

Pastatastic Recipe Book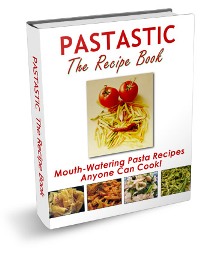 Homemade, authentic Italian Pasta Recipes that are easy to follow and very delicious.
More Italian Chicken Recipes for inspiration. They are all delicious and should help bring out the passionate Italian in you.

Back to the top of Chicken Alfredo Sauce Recipe.

Chicken Recipes Homepage