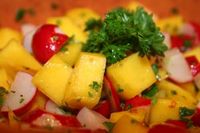 Mango Chicken Recipe
Char-grilled Chicken with Mango Salsa
If you enjoy fruity chicken then this Mango Chicken Recipe will be a good boneless chicken breast recipe to add to your collection.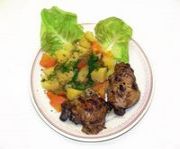 I enjoy the flavors of the mango salsa with the grilled chicken breasts and the chili gives it quite a nice bite. It goes very well with a salad and potato wedges.
Boneless Chicken Breast Recipes are so easy because the meat cooks quickly. The salsa preparation and marinading of the chicken breasts takes a bit of time.

Mango Chicken Recipe Ingredients
4 boneless chicken breasts
2 tablespoons thai fish sauce
juice of ½ lime
salt and black pepper
1 tablespoon olive oil
fresh mint to garnish
lime wedges to serve
Mango Salsa Ingredients
½ red pepper, deseeded and quartered
1 mango, chopped
1 small red chilli, seeds removed and finely chopped
1 tablespoon olive oil
juice of ½ lime
1 tablespoon chopped fresh coriander
1 tablespoon chopped fresh mint
salt and pepper
How to Cook Char-grilled Chicken Breasts with Mango Salsa
Flatten the chicken breasts slightly by placing them between cling film / plastic wrap and pounding with a rolling pin. Unwrap and place in a non-metallic dish. In a small bowl, combine the fish sauce, lime juice, salt and pepper to make a marinade. Pour this chicken marinade over the chicken breasts. Cover and leave to marinate in the refrigerator for 1 hour.
Preheat the grill to high. Grill the capsicum skin side up until it blisters. Peel off the skin and dice. In a bowl, combine the mango, capsicum, chilli. oil, lime juice, coriander, mint, salt and pepper. Cover and refrigerate.
Heat the tablespoon of oil in your preferred grill pan. Fry the chicken for 3-4 minutes on each side. Pour over any remaining marinade and cook until chicken is cooked through. Remove to a serving plate. Serve with mango salsa and garnish with mint and lime.
Apricot Chicken Meatloaf
is another Fruity Chicken Recipe
Apricot Chicken Recipe - Aricpot and Mustard Baked Chicken
More Grilled Chicken Recipes
Chicken Salad Recipe Mainpage
for more chicken salad ideas.
More Delicious Chicken Marinades and Sauce Recipes
Top Of Mango Chicken Recipe
Great Chicken Recipes Homepage