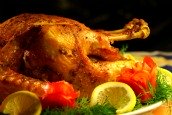 Chicken Recipe Index
Chicken Recipes Site Search
Welcome to Chicken Recipe Site Search. Did you find the chicken recipe you were searching for? If not you can search this site and get instant results.
In the search box below, simply enter the chicken dish or any term or phrase you are looking for and press the "search" button.
The search results will open in a new page. You may notice that your search results page has ads ABOVE the actual search results. Those are not from this site, but may beof interest to you, since Google targets the ads to your particular search.
Check out some of my favourite Chicken Recipes are listed below so have a look there too.
---


See my tips for buying Chicken and cooking chicken.

Chicken ala King Recipe - Great comfort food on a cold night. Chicken ala king is a classic chicken dish of chicken meat cooked in a creamy sauce with mushroom and green pepper. It's a great way to acter for large numbers of people and serves well with rice, pasta or mash potatoes.

Chicken and Asparagus Soup - This Asparagus Chicken Soup Recipe is simple and quick. Delicious with fresh bread for a light lunch or tasty starter, especially if you love asparagus.

Chicken and Broccoli Pie - In thge mood for a pie and keen to disguise some healthy vegetables too? This Delicious Chicken Broccoli Pie filled with good stuff. A great chicken recipe for an easy meal idea. The feta cheese included was an experiment that worked out quite well.

Crockpot Chicken Cacciatore - Chicken slow cooked in red wine with onions, mushrooms, tomatoes and herbs. It's all Italian so try it out and celebrate easy cooking with a crockpot.

Chicken Coconut Soup - Need a little Oriental inspiration? Try this classic Thai Chicken Soup also known as Tom Kha Ga. The siamese ginger and coconut milk add flavour and creaminess.

Chicken with Seafood and Rice - A seafood extravaganza. If you need flavor and a bit of extravagance then this chicken dish is superb. Almost like a paella, the chicken, seafood and chorizo sausages blend deliciously together. Serve with a green salad and you'll be famous with your friends.

Chicken Stock Recipe - Need to invest in a good stock? Nothing beats homemade chicken stock for flavour. Make it in bulk and freeze for future cooking sprees.

Cock - a - Leekie Soup - Need to feel your Scottish roots? A classic Scottish soup, rich and soul-warming to bring out the braveheart in you. Don't feel obliged to keep the prunes if you don't like them.

Creamy Chicken Casserole Two chicken casserole recipes to warm your soul. One is creamy with a slighlty curry flavour. The other has lots of mushrooms to make it hearty and delicious.

Chicken Cordon Bleu Recipe - This is a blue ribbon chicken dish, quite literally that is what it translates to in French. Crumbed chicken breasts stuffed with cheese and ham and then baked or fried. This is a family favourite with children especially.

Chicken Marsala Recipe - Chicken in a wine rich wine sauce is what you'll get with this recipe. It's another classic Italian chicken recipe and uses chicken breast fillets.

Chicken Noodle Soup Recipe - Ditch the tin of Campbell's Soup and make you own homemade chicken noodle soup. It's not just great for fighting colds and flu. It's also great for sipping in front of your favourite television show on a winter's evening.

Chicken Pasta Salad - The preparation is worth it when you taste this incredible chicken salad. Don't be put off by the long list of ingredients. The touch of curry powder in the dressing is what really makes this past salad superb.

Chicken Scarpariello - Deliciously moist and the red wine vinegar gives it a nice bite. This is a favourite Italian chicken recipe. There are numerous variations of this chicken dish. Some use hot bell peppers for a bit of spice.

Chicken Stirfry with Lemon Grass - Going Chinese is easy with a stir-fry so heat up your wok and get cooking. Lemongrass has an unmistakable aroma so combined with ginger and garlic there are some amazing flavours happening here.

Chicken Tortilla Soup Recipe - Your Mexican theme party would'nt be the same without a tortilla soup. The best part is of course the sour cream and the cheese.

Coq au vin Recipe - A rich French chicken stew with bacon and wine combining to make a gorgeous sauce. It's basically about drowning a chicken in wine and enjoying yourself in the process.

Crock Pot Chicken Casserole - A simple chicken casserole slow-cooked to perfection in the time-saving invention - the crockpot. Make it with love and serve it with pride.

Crock Pot Roast Chicken - Set it and forget it. Then come home to delicous roasted chicken falling off the bone. Don't tell anyone it cooked while you were at work all day.

Lemon Roast Chicken - Garlic and lemon flavours seem to melt into the chicken meat leaving a most succulent gourmet experience.

Spanish Chicken and Rice Recipe - My life saver for dinner parties. The guests will want the recipe for this impressive paella type chicken dish. The flavours are even better the next day if there's any left over.

Teriyaki Chicken - Try something new! Teriyaki is a classic Japanese marinade or sauce. It compliments the chicken breasts perfectly.

Thai Roast Chicken - This roast chicken has the most fragrant basting sauce or marinade. Lime, ginger, curry paste, chili and more with coconut milk will leave your tastebuds in heaven.


Good Site? Vote at:
Directory