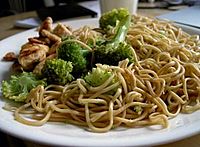 Chinese Food Recipe Collection
Cook Real Chinese Food - Quick and Easy Chinese Chicken Recipes
Chinese Food Recipe List.
Chinese Food, Asian Recipe or Oriental cooking now goes far beyond Chicken Chow Mein from a take-out joint downtown.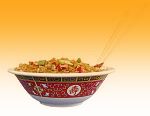 Chinese food recipes, Asian cuisine and Oriental themes in general have become extremely popular around the world.

Fusion Food has become a buzzword in gourmet restaurants, cooking magazines and books. Chefs and gourmet cooks are looking to all continents for inspiration and so Chinese food, ingredients and cooking styles have lead to Asian-inspired cuisine.
We see the exotic Asian influence not only in recipe books but also in clothing, decor, tea, health products, vacations and holiday destinations.
I think it's the rich colours, aromatic flavoursand the mysterious ingredients that make this an intriguingfood evolution. Cooking a Chinese food recipe is a highly developed, skilled art but there are some simple stir-fry recipes. Chinese and Asian cuisine is considered more healthy because the food is cut into bite size pieces and thenis cooked very quickly at high temperatures so the colour, shape and nutrients are retained as well as being low-fat. Popular Asian recipe ingredients like garlic and ginger are well known for their health benefits and healing properties.


The Stir Fry
My favourite Chinese Food Recipe is the Stir Fry. It's quick and easy (bonus forbusy moms) but also allows for creativity so you can add a little zing to your cooking without having to take a cooking course.
Stir Fry is a common Chinese cooking method and tasty Chicken Stir Fry Recipes will be easy to followas well as healthy. Vegetables and chicken are cut into thin strips and fried quickly over a very high heat.A stir fry takes minutes to cook, and is one of the healthiest ways of cooking chicken and vegetables.
Chicken is ideal for Chinese Stir Fry Recipes because it cooks quickly and is low in fat especially skinless chicken breast strips which are best for stir frying. The key to a successful stirfry is in the cooking temperature. You want an even temperature and quick cooking time so those veggiesdon't go soggy and limp.
Stir Fry Tips
Decide on your Chicken Stir Fry Recipe and prepare everything before you start cooking. Cut all your vegetables and meats and prepare your sauce if you need to. Don't try to chop broccoli while stir frying onion.
Chop your vegetables and chicken meat to approximately the same size. Bite size is ideal (cubes or thin slivers)as it allows the food to cook through without burning.
Stir frying is usually done in a special Chinese frying pan called a wok. You can use a skillet but the wok is specially designed with depth and sloping sides.
Get to know the different cooking times of meats and vegetables by experimenting. You'll need to stagger additions to the stir-fry according to how long they take to cook. (For example, you would add onions first, and stir-fry for about 2 minutes, then add broccoli florets and stir-fry for 3 to 4 minutes, then add red bell pepper and stir-fry for 2 more minutes.)
Pre-heat the wok then add the oil. A good grade peanut oil is the Chinese Chef's first choice. It's virtually without adominant flavour of it's own, it permits cooking at high temperatures without smoking or chemical breakdowns and it quickly seals in flavours. You can experiment with other vegetable oils such as soybean, sunflower seed, safflower seed, corn and rapeseed.
Drizzle the oil so it coats both the sides and bottom of the wok. When the oil is hot, add aromatics, such as ginger and garlic, and stir-fry for a few seconds, or until you smell them. Subtlety of flavour is the cornerstone of Chinese cooking so don't be too heavy on the seasonings.

Meat is normally stir-fried on high heat to seal in the juices. If you have a lot of ingredients to fry, stir-fry the meat completely first, set it aside then add it back in at the end. This ensures that the meat is not overcooked, and that the meat and vegetables retain their individual flavors.
When stir-frying meat give it a chance to brown before turning it, but when stir-frying vegetables, begin moving them immediately.
I am sticking with the chicken recipe theme so please help yourself to a Chinese Food Recipe below. Salad, soup, stir fry, noodles, and more to come. I also highly recommend looking at this great Chinese Food Recipe Book - click on picture just below.
Chicken Recipe Search Box
If you can't find what your're looking for, you might want to try our easy-to-use Chicken Recipe Search Box. You can also use it to find anything else you might want to search for on the wider web.
Chicken Stir Fry Recipes
These two chicken stir fry recipes are quite exotic and very flavourful. The lemon grass in the first one adds the most fantastic aromas and the mango in the second one just goes so well with chicken.

Bourbon Chicken Recipe

Cashew Chicken Stir Fry Recipe

Chicken Stir Fry Recipe With Asparagus

Hoisin Grilled Chicken can be ammended to make a lovely Chinese Chicken Wings Recipe

Sweet and Sour Chicken Recipe

Chinese Chicken and Brocolli

Chicken Coconut Soup Recipe - Tom Kha Gai

Chinese Chicken Noodle Soup

Chicken with Seafood and rice

Spicey Thai Roast Chicken Recipe

Chinese Roast Chicken

Crock Pot Sweet and Sour Chicken Recipe

Quick and Easy Asian Chicken Soup Recipe

Other Crockpot Recipes

Back to Chicken Recipes Homepage


I hope you find something good to cook on this Chinese Food Recipe list.