Spicy Chicken Recipe with Potatoes
A Fragrant, Spicy Chicken and Potatoes Dish
This super-easy and delicious, spicy chicken recipe with potatoes is so helpful if you want to impress your guests or family but are running short on time. Chilis give this dinner idea a nice spicy bite and you can obviously add more chillis if you prefer a hotter chicken dish. This recipe requires boneless chicken breast meat as the main ingredient.
"Quick and easy fragrant chicken with chili and potatoes"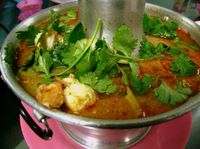 Spicy Chicken Recipe Ingredients
2 garlic cloves, finely chopped
1 chopped onion
10 ml (2tsp) cumin seeds
1 green chili, seeded and finely chopped
10 ml (2tsp) fresh ginger, finely chopped
4 cubed chicken breasts (uncooked)
2 parboiled potatoes, cut into cubes
How to Cook Spicy Chicken and Potatoes
In a large frying pan, saute the garlic cloves and the chopped onion for two minutes. Stir in the cumin seeds and chopped chili as well as the ginger. Add the cubes of chicken breast and par-boiled potatoes. Cook until the chicken and potatoes are done, about 20 minutes. Season with salt and the freshly ground black pepper to taste. Serve with brown rice.
More Chicken Breast Recipes
Gourmet Stuffed Chicken Breast Recipe
Chicken Breast Fillets Cooked in an Orange and Sherry Reduction
Chicken Parmigiana is another tasty Chicken Breast Recipe
Stylish Pancetta Stuffed Chicken Breast Recipe
Chicken Recipe Search Tool
If you can't find what your're looking for, you might want to try our easy-to-use Chicken Recipe Search Box. You can also use it to find anything else you might want to search for on the wider web.


Want spicy Roasted chicken? Try Lime and Garam Masala Roasted Chicken

Top of Spicy Chicken Recipe

Chicken Recipes Homepage