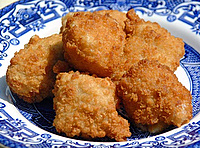 Chicken Cordon Bleu Recipe
Enjoy Gourmet French Chicken Cordon Bleu
The Chicken Cordon Bleu Recipe has now developed a few variations but this classic french recipe is still a favourite. It literally means blue ribbon chicken and it is certainly a gourmet dish to cook.
"I love to serve gourmet Cordon Bleu Chicken breasts with baby potatoes, glazed carrots and peas."
The crumbed chicken breasts rolled around ham and cheese are a wonderful
gourmet meal idea
and can be easily prepared ahead of time for a memorable dinner party or special occassion.
For a variation try the Chicken Kiev Recipe


Gourmet Chicken Cordon Bleu Recipe Ingredients
If you like sauces then try the Cordon Bleu sauce recipe below the Chicken Cordon Bleu Recipe as an accompaniment.
If you estimate that each person will eat two Chicken breasts then to serve 4 people you will need:
8 large skinless, boneless chicken breasts
8 slices of Swiss cheese
8 slices of smoked ham
1 egg, beaten
1 cup of seasoned flour
1 cup of breadcrumbs or cornflake crumbs
How to Make Chicken Cordon Bleu
To prepare the chicken breasts, you can either cut into the thickest part of each fillet (notright through) and then open it out in a butterflyor you can cover them in plastic wrap and pound themflat with a meat mallet.
Season the open fillets with salt and blackpepper. Place a cheese and ham slice on each fillet.fold the fillet in half to enlcose the filling. You canalso roll them and secure with toothpicks.
Coat each of the fillets in the flour, shaking off excess.Dip them in the egg and then roll in the dry crumbs,turning to get an even coat.
Either bake them in a lightly greased oven dishat 200 degrees C (400 degrees F) for about 40 minutesor fry in vegetable oil in a heavy based pan for 4 minuteson each side.



Cordon Bleu Sauce Recipe
1 can condensed Cream of Chicken Soup
half a cup of sour cream
1 teaspoon lemon juice
Combine all the ingredients in a saucepan and heat through.Serve over the chicken breasts.
More French Chicken Recipes
You could also try our
Classic Chicken Kiev Recipe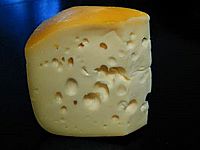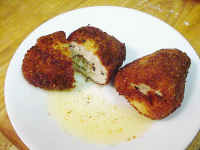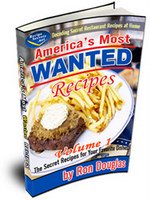 Looking for ideas for dinner?
Get inside the hidden cookbooks of America's favorite restaurants. The secret recipes for over 100 all-time favorite dishes have now been revealed in this best-selling new cookbook.
Prepare dishes you know they'll love and save money by easily making them at home.
Get free sample recipes just for visiting the site.
See the full list of America's Most Wanted Recipes


Enjoy Another Free Chicken Recipe
Chicken Recipe Search Tool
If you can't find what your're looking for, you might want to try our easy-to-use Chicken Recipe Search Box. You can also use it to find anything else you might want to search for on the wider web.


See my tips for buying Chicken and cooking chicken.


Baked Chicken Recipes Mainpage


Pancetta Stuffed Chicken Breast Recipe


Chicken Cordon Bleu Recipe Main

Chicken Recipes Home

Fried Chicken Recipes