Chicken Curry Recipe
Try a Chicken Curry Recipe from a curry guru.
If your favourite Chicken Curry Recipe needs a bit of a change then try convincing a curry guru to share their secret ingredients with you and teach you how to make an authentic, Indian chicken curry. They are known to guard their curry recipes with their life and I have to admit that this slighlty strange behaviour is enough to get me to sample the fiery offering even though I don't really like spicy food.

"Bring out your gourmet chef with these delicious curry recipes."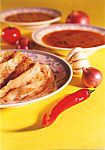 Curry is now an international dish recognised all over the world and come in many gourmet variations of soups and stews but essentailly contain the same basic mix of spices.
Although many legends abound on the origins of this classic Indian dish, most people accept that it comes from the word "kari" meaning spiced sauce. Believe it or not curry has surpassed fish 'n chips in Britain as the most popular meal.


How Hot Is Your Curry Powder Mix?
Some like it hot and they are quite particular about their curry powder mix.
I don't claim to be a curry expert but I do know that the freshness of the spices is fundamental for the best results.
Curry powderis a general term for a mixture of spices that can make a curry.A genuine Indian curry would require these basic ingredients, Cumin, Coriander seeds, tumeric and chilli powder for heat. Other optional extra spices to add are ginger, black pepper, mace, bay, green and black cardamon. For the best and freshest results keep whole spices and grind as you need them. Each spice has it's own way of releasing the flavour and heat so it is important to know your spices and how to get the sequence right.
I twisted a few arms and pulled in a few favours from the experts for these "Top Secret Gourmet Recipes". Some Curry Recipes are quick and easy while others will require more nurturing. Mostof the curries do not require culinary expertise or cooking school certificates to make.
Curry Recipes




Spicy Chicken Recipe With Potatoes

Chicken Curry Soup Recipe

Curried Chicken Pie Recipe

Spicy Chicken Curry Recipe

White Chicken Chili Recipe

Fragrant Chicken Curry

Quick Chicken Curry

Crock Pot Chicken Tortilla Soup Recipe with lots of chilies

Stovetop Chicken Tortilla Soup

Crock Pot Chicken Chili

Indian Butter Chicken Recipe

Authentic Curry Chicken Recipe

Lime and Garam Masala Roasted Chicken

Indian Spiced Chicken Kebab Recipe

Simple Butter Chicken Recipe

Sweet Chilli Chicken on a Stick Recipe

Moroccan Chicken Recipe

Moroccan Chicken Recipe with Couscous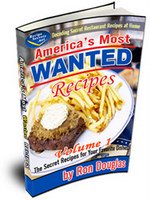 Looking for ideas for dinner?
Get inside the hidden cookbooks of America's favorite restaurants. The secret recipes for over 100 all-time favorite dishes have now been revealed in this best-selling new cookbook.
Prepare dishes you know they'll love and save money by easily making them at home.
Get free sample recipes just for visiting the site.
See the full list of Americas Most Wanted Secret Recipes
Find Your Favourite Curry Recipe
If you can't find what your're looking for, you might want to try our easy-to-use Chicken Recipe Search Box. You can also use it to find anything else you might want to search for on the wider web.