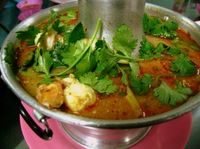 Chicken Scarpariello Recipe
Chicken shoemakers style
This Chicken Scarpariello Recipe was given to me by an Italian college friend's mom.
"Bring Italian flavours into your kitchen with Chicken Scarpariello. "
This is an easy chicken dish to cook and something different that I have found to be quite useful to make for dinner parties because its quick to prepare and the flavour of the bacon makes it special. It can also be made with Italian sausage. Boneless chicken breast is the best meat to use.
Serves: 2
Preparation / Cooking Time: 30-35 minutes


Chicken Scarpariello Ingredients
1 large boneless chicken breast

2 slices bacon, coarsely chopped

2 tbsp olive oil

1/2 cup quartered button mushrooms

1 clove garlic, minced

1 cup chicken stock

2 tbsp red wine vinegar

8 small, white onions, peeled

4 small red potatoes, halved

1/2 tsp salt

1/4 tsp pepper

1 tbsp flour + 2 tbsp chicken stock for thickening

Chopped parsley for garnish

How to cook Italian : Chicken Scarpariello
Set a small pot of water on to boil. Boil red potatoes for 10 minutes, or until they are beginning to get soft.
Heat the olive oil in a pan over med-high heat. Place the chicken in the pan and brown well on all sides.
Add the onions, potatoes, salt, pepper and sauté for 2 minutes.
Add the mushrooms and garlic and sauté until the chicken is almost cooked through, about 4-6 minutes.
Add the vinegar and chicken stock (except the 2 tbsp). Reduce by half, or until the onions and other vegetables become tender.
Dissolve the flour into the 2 tablespoons of chicken stock. Stir this into the sauce to thicken until smooth.
Serve with pasta or rice (see how to cook perfect rice )and a fresh salad.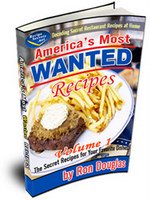 Looking for ideas for dinner?
Get inside the hidden cookbooks of America's favorite restaurants. The secret recipes for over 100 all-time favorite dishes have now been revealed in this best-selling new cookbook.
Prepare dishes you know they'll love and save money by easily making them at home.
Get free sample recipes just for visiting the site.
See the full list of Americas Most Wanted Secret Recipes
Find Your Favourite Chicken Recipe
If you can't find what your're looking for, you might want to try our easy-to-use Chicken Recipe Search Box. You can also use it to find anything else you might want to search for on the wider web.
More Italian Chicken Recipes
Top of Chicken Scarpariello Recipe

Fettucine Alfredo is another famous Italian pasta dish. This one includes chicken in the recipe smothered with the most delicious homemade Alfredo sauce.

Spanish Chicken Stew Recipe with spicy chorizo sausage.

Italian Roast Chicken Recipe made with a delicious Basil Pesto Sauce that originated from Liguria in Northern Italy.



Great Chicken Recipes Homepage