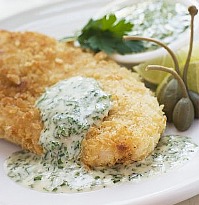 Pancetta Stuffed Chicken Breast Recipe
Recipe for Chicken Breasts stuffed with spinach and pancetta.
A Stuffed Chicken Breast Recipe makes such a stylish main course for your dinner party. Don't be intimidated by the preparation of the boneless chicken breasts. It's more time consuming than difficult to get them stuffed, rolled and coated with crumbs.



You can substitute the pancetta with provolone cheese if you prefer a cheese filling.
This chicken breast recipe is served with wild rice that is cooked in chicken stock and then seasoned with an array of exotic ingredients like the figs, ginger and walnuts. It's a superb combination of flavours and will certainly convince your friends you are capable of gourmet cooking.

Stuffed Chicken Breast Recipe Ingredients
Serves six
12 chicken breasts, flattened
salt and freshly ground black pepper, to taste
48 baby spinach leaves
12 slices of pancetta
80mL butter, melted
50mL oil
200 g tender steam broccoli, blanched or your favourite vegetable
Wild Rice recipe ingredients
500 mL chicken stock (homemade is always better)
200 g wild Rice
50 g dried figs, thinly sliced
15 mL walnut oil
50 g walnuts, crumbled
10 mL lemongrass, finely chopped
10 mL ginger, finely chopped
40 mL sunflower seeds
How to make stuffed chicken breasts
Place the chicken breasts on a working surface and season well with salt and pepper. Place the spinach on top of the chicken breasts and add a slice of pancetta.Roll the chicken breasts to form a cigar, secure with string and season again if you want to.
Now we need to crumb the rolled chicken breasts. Place the breadcrumbs in a dish. Brush the chicken breasts all over with 50mL of the melted butter and roll them in the breadcrumbs to get an even coat. Carefully wrap the crumbed chicken breasts in plastic wrap and refrigerate until needed. This will help to keep them firm and also allow you to make them ahead of time.
To make this delicious wild rice: Bring the chicken stock to the boil. Add the wild rice to the stock and boil until cooked. It should take about fifty minutes.Drain the rice and place it in a bowl. Add the rest of the ingredients to the rice. Stir to coat and mix well.
Heat the remaining butter and oil in a frying pan and fry the chicken rolls until browned.Place the stuffed chicken breasts on paper towel to absorb excess oil. Serve the rice with the chicken rolls and broccoli.
If you enjoy the chicken and spinach combination then try this
Almond and Spinach Chicken Salad Recipe
More Recipes For Stuffed Chicken Breasts
Ricotta and Pesto Stuffed Chicken Breast Recipe

Top Of Pancetta Stuffed Chicken Breast Recipe

Chicken Recipes Hompage