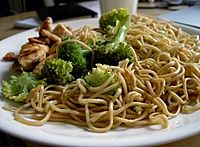 Chicken Salad Recipe
Spicey Thai Chicken Salad with Noodles
The favour and texture in this Thai Chicken Salad Recipe make a wonderful combination. The spiciness works well with the crunchy salad and herbs. The lime and mint bring refreshing flavours to this super lunchtime idea.
Thai Chicken Salad Recipe Ingredients
Serves 4
1/2 (125ml)Cup fish sauce
3 Tbsp (45ml)lime juice
2 Tbsp sugar
1 Tbsp soy sauce
1 Tbsp grated lime rind
Finger-tip length fresh root ginger(chopped fine)
2 Tbsp peanut oil
1 Tbsp vegetable oil
3 cloves garlic, minced
1 Jalapeno pepper, seeded and chopped (optional)
1 lb (500gr) chicken breast, boneless skinless, cut in strips
1/2 lb shitake mushrooms, sliced
1/3 cup green onions, sliced
1/4 cup cabbage, thinly sliced
1 cup hot, cooked noodles of your choice (I like rice noodles)
8 cups romaine lettuce, thinly sliced
1/4 cup roasted peanuts
A handful each of chopped cilantro, mint and basil leaves
1 cucumber cut into strips lengthways
200gr Bean Sprouts
How To Make Thai Chicken Salad
1. In a small bowl, mix together fish sauce, lime juice, sugar, soy sauce, lime rind and ginger. Set aside.
2. In a wok or large skillet, heat the peanut and vegetable oil on high heat. Add the garlic, Jalapeno, and chicken and stir fry until the chicken is no longer pink. Remove from the wok and set aside.
3. Using the same skillet, add the mushrooms and onions and stir fry for about 2 minutes, adding more oil if needed. Addthe cabbage and cook for another 2minutes. Add the chicken and the sauce and stir fry for about 2 minutes.
4. Mix the pasta with the chicken mixture. Serve on a bed of romaine lettuce and cucumber and top with roasted peanuts, beansprouts and herb leaves.


Top Of
Chicken Salad Recipes Mainpage