Chicken Crock Pot Recipes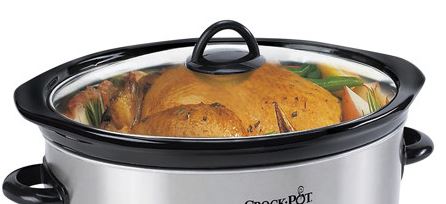 My Favourite Crock Pot Recipes
Go straight to the Crock Pot Recipes for Chicken.
My first chicken crock pot recipes were such a success I was convinced that the crock pot was invented for me. In fact owning a crock pot is already a recipe for success. Chicken Slow Cooker recipes are particularly easy and delicious,you'll begin to rely on your crock pot or slow cooker quite a bit.
"Let your Crock Pot take center stage in your kitchen as dazzle your guests with these innovative recipes."
Every kitchen should have a crock pot. Slow cooking is a very traditional cooking method. In the 'old days' stews and casseroles in iron pots were left standing in the coals of the fire to cook all day. We've progressed a bit since then but slow cooking is still a superb way to tenderize the cheaper cuts of meat.
Get Organized - Save Time
For a working or busy person they are a huge time saver.Crock pots use a small amount of electricity so its a money saver too! Some recipes only reqire one pot.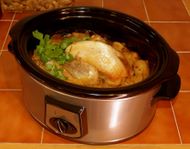 A crock pot makes entertaining easy too. The food preparation is done in advance and the cooking goes on without you having to hover over the stove. You can get on and organize the rest of the party.
I found these Easy Entertaining Tips very useful and their recipe page has more great crock pot recipes to inspire you with easy meal ideas.
Healthy and Versatile
The best part though and this was the selling point for me,is that the crock pot recipes are easily made with low fat. That means delicious, healthy, easy meals for my family. Just add your ingredients in the morning, set the time and heat andits all done by dinner time. The result is extremely tendermeat from being slow cooked in a sauce or wine or stock.
The condensation forms a water seal between the rim and the lid which stops the liquid from evaporating and the food from shrinking so you retain the nutritious and hopefully delicious juices in the dish.
There really is a substantial range of recipes for almost any meal idea for crock pot cooking. From desserts to cakes, I've come across many. You won't run out of inspiration with a crock pot.
Talking about inspiration, I know a lot of single people who don't like to make a huge effort with cooking for one. Well the crock pot is your answer to hassle free and tasty meals. If you need a bit of inspiration with your cooking, check this out--Inspiration for singles -- it's 100% fat free!
Crock Pot Recipes for Chicken are added as soon asthey have been tried and tested in my kitchen.I am also currently investigating the best places to buy crock pots online.
Every busy mom should have a crockpot. For kid friendly recipes, meals and ideas visit Kids-Meal-Ideas.com where you will find more easy crockpot recipes
The slow cooker recipes are right at the bottom of this page so scroll right down if you want to skip my crock pot buying tips and cooking tips or go straight there.
"Crock Pot / Slow Cooker Recipe Cookbooks are very useful and make wonderful gifts."
See our selection Slow Cooker / Crockpot Recipe Cookbooks
---
Crock Pot / Slow Cooker Buying Tips
Crock Pot / Slow Cooker Buying Tips
Crock pots with a removable inner are much easier to clean.
Choose a pot size relevant to your needs and maybe slightly bigger.
Spend a little more for a lot more value - like a programmable timer.
If you can find one that heats from all around and not just the bottom then you will avoid burning the food at the bottom.

If you are think of buying a new crock pot or replacing your old one there are many reputable online stores where you can easily order one without the fuss of going to the shop. They have a wide selection of the latest Slow Cookers and Crock pots available.

Slow Cooker / Crock Pot Cooking Tips

Slow Cooker / Crock Pot Cooking Tips
Thaw the chicken before adding to the pot.
Put your vegetables in first as they take longer to cook.
For better cooking only fill the slow cooker 1/2 way to 3/4 full.
Cut the chicken into pieces, avoid cooking it whole.
Good kitchen knives make the preparation of food for cooking much easier.
Add milks, cheeses or creams in the last half hour of cooking time.
The more you peek the longer the cooking time will be as heat is lost.
Do not add cold water to a hot crock pot - it will crack.
Best Crock Pot Recipes For Chicken

Easy Crock Pot Roast Chicken Recipe A whole chicken roasted to tender perfection in your crock pot / slow cooker. Minimal preparation for an easy dinner idea.
Another delicious Crock Pot Roast Chicken Recipe with garlic and white wine seasoning.

Crock Pot Chicken Casserole Recipe A great tender chicken recipe. Succulent Chicken Breasts casseroled with seasonal vegetables in a tasty chicken stock.

Delicious Crockpot Chicken Cacciatore Recipe A popular Italian chicken recipe prepared with onions, mushrooms, tomatoes, herbs and wine.

Crockpot Chicken Tortilla Soup This spicey Mexican soup recipe is a hearty combination of chicken, cheese and tortilla chips. A flavourful favourite with kids.

Slow Cooker Chicken Marengo

Crock Pot Chicken and Vegetable Stew

Crock Pot Sweet and Sour Chicken Recipe If you like Chinese Food then try this Crock Pot Sweet and Sour Chicken Recipe.

Crock Pot Jerk Chicken Recipe

Crockpot Coq Au Vin Recipe

Crock Pot Chicken in Cider Recipe

Crock Pot Chicken and Mushroom Casserole

Crock Pot Chicken Chili Recipe

If you're interested in learning more about health living try Detox For Life
Chicken Recipe Search Tool

If you can't find what your're looking for, you might want to try our easy-to-use Chicken Recipe Search Box. You can also use it to find anything else you might want to search for on the wider web.
See my tips for buying Chicken and cooking chicken.

Top of Crock Pot Recipes Page