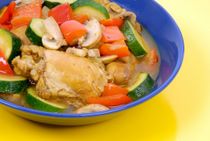 Lemon Chicken Casserole Recipe
Fragrant and Succulent Casserole Chicken Breasts
Striclty speaking I think this Lemon Chicken Casserole Recipe is actualy a stew because it is cooked on the stove top and not in the oven.
Nonetheless it makes a great chicken recipe and a tasty dinner idea especially for a cold winter's evening when you have hungry guests to feed. The lemon is a perfect compliment to the chicken meat and the beans make it hearty and filling.
Another great thing about lemon juice is that the acid makes it act as a slight tenderiser even though chicken meat is generally quite a tender meat.
Lemon Chicken Casserole Recipe Ingredients
Serves 4 - 6
1 lemon
30 ml olive oil
8 skinless chicken breasts
8 pickling onions
6 baby potatoes, scrubbed and cut in half
3 cloves of garlic, not peeled
125 ml white wine
500 ml chicken stock
400g can butter beans, drained and rinsed
4 sprigs thyme
3 teasponns fresh thyme leaves
3 teaspoons of sugar
Lemon Chicken Recipe Cooking Instructions
Peel the lemon and remove all the bitter white pith. Cut the lemon into thick slices. Heat the oil in a large casserole dish and then add the chicken and onions in batches. Brown the chicken and onion on all sides.
Place all the chicken and onion in the pan and then add the potatos, garlic, lemon, white wine, chicken stock and thyme sprigs. Reduce the heat, cover the pan and let the casserole simmer for about 45 minutes.
Remove the lid and add the beans. Cook for another 15 minutes or until the chicken is tender and comes away from the bone easily. The liquid should also have thickened slightly.
Remove the thyme sprigs and stir in the sugar and thyme leaves.
This Lemon Chicken Casserole is delicious served over rice or mashed yams with steamed zuccini (baby marrows).

Fried Lemon Chicken Recipe is another great Lemon and Chicken combination recipe.
More Chicken Breast Recipes

Chicken Casserole Main page




Chicken Recipe Search Tool
If you can't find what your're looking for, you might want to try our easy-to-use Chicken Recipe Search Box. You can also use it to find anything else you might want to search for on the wider web.


Roast Lemon Chicken

Top of Lemon Chicken Casserole Recipe

Chicken Recipes Homepage