Tuscan Garlic Chicken Recipe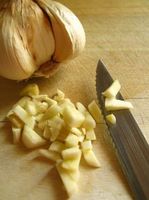 Italian Chicken Recipes at their best. Tuscan Garlic Chicken Recipe as made by the famous Olive Garden Restaurant. I've never been to Olive Garden because I don't live in the USA. But this Tuscan Garlic chicken is highly spoken of by those who've tried it.
The Italian chicken is served in a in a white wine and cream sauce over pasta. I found this recipe on the Olive Garden Website and gave it a try.
I love Italian Chicken Recipes and Italian food and I was very impressed by the flavours.
Delicious pan-seared chicken breast recipe with roasted garlic, red peppers and spinach in a white wine and garlic cream sauce, tossed with fettuccine. I did add a bit more garlic because we love garlic.
People who've eaten this Italian chicken dish at Olive Garden say that there were whole roasted garlic cloves in the sauce.  You can also use any pasta you prefer. I used penne pasta because that's what was in the pantry.
Tuscan Garlic Chicken Recipe Ingredients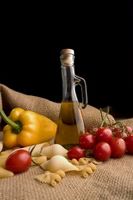 4 each (4 oz) boneless, skinless chicken breasts
1 1/2 cups flour, plus 1 tablespoon
1 Tbsp salt
2 tsp black pepper
2 tsp Italian seasoning
1 lb fettuccine pasta, cooked according to package directions
5 Tbsp olive oil
1 Tbsp garlic, chopped
1 red pepper, julienne cut
1/2 cup white wine
1/2 lb whole leaf spinach, stemmed
2 cups heavy cream
1 cups Parmesan cheese, grated
How to Make The Olive Garden Tuscan Garlic Chicken

Combine 1½ cups flour, salt, pepper and Italian seasoning in a shallow dish. Dredge chicken in the mixture, shaking off any excess.
Saute the chicken in batches, in a large, nonstick, ovenproof skillet -- with enough oil to coat -- over medium-high heat for about two to three minutes on each side, or until golden brown and crisp.
Place cooked chicken breasts on a baking sheet and transfer to preheated oven. Cook for 10-15 minutes or until internal temperature reaches 165°F.
Heat 2 Tbsp oil in a sauce pan. Add garlic and red pepper and cook for approximately 1 minute. Stir in 1 Tbsp flour, wine, spinach and cream and bring to a boil. The sauce is done when spinach becomes wilted. Complete by stirring in parmesan cheese.
Partly coat the cooked pasta with sauce, place the chicken on top and cover with remaining sauce. Garnish with extra Parmesan cheese.
More Italian Chicken Recipes

Chicken Alfredo Recipe  - a favourite Italian recipe.

Italian Roast Chicken Recipe

Creamy Chicken Pasta Recipe With Bacon

Italian Chicken Breasts

Chicken Parmesan Recipe  - make a great impression with these.

Chicken Marsala Recipe
Creme Fraiche and Bacon Chicken Thigh Recipe is another creamy garlic chicken recipe.

More Italian Chicken Recipes From Our Collection
Chicken Recipe Search Tool

If you can't find what your're looking for, you might want to try our easy-to-use Chicken Recipe Search Box. You can also use it to find anything else you might want to search for on the wider web.
Top of Tuscan Garlic Chicken Recipe

Chicken Recipes Homepage