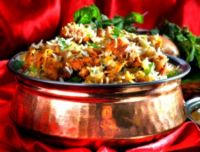 Chicken Curry Recipe
Fragrant Apricot Chicken Curry
This Chicken Curry Recipe requires a little effort but it's very worth it. Apricots which give the Chicken curry a wonderful flavour.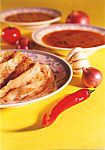 Apricot Chicken Curry Recipe Ingredients
4 Chicken breast halves, skinned
45g (90ml) flour
15ml (1 tablespoon) medium curry powder
5ml (1 teaspoon salt)
75 ml (5 tablespoons) sunflower oil
15ml (1 tablespoon) sugar
2 chicken stock cubes, crumbled
1 large onion, chopped
250ml (1 cup) water
410g can apricot halves, drained
30ml (2tablespoons) lemon juice
10ml (2 teaspoons) soya sauce
Apricot Chicken Recipe Cooking Instructions
Cut chicken breasts in half crosswise. Place in a paper or plastic bag, add flour, curry powder, salt and shake well to coat. Brown chicken pieces in hot oil in a large frying pan, remove with a slotted spoon and transfer to a casserole dish. Add sugar, crumbled stock cubes, onion and water to drippings in the frying pan and bring to boil.
Reserve 4 apricot halves for garnishing and puree the remainder of the apricots in a food processor, blender or push through a sieve. Add to boiling mixture with lemon juice and soya sauce, stir well.
Pour mixture over chicken. Cover and bake at 180 C for one hour until chicken is tender and sauce is thick. Serve with rice and garnish with reserved apricots.
Serves 4.
Looking for ideas for dinner?
Get inside the hidden cookbooks of America's favorite restaurants. The secret recipes for over 100 all-time favorite dishes have now been revealed in this best-selling new cookbook.
Prepare dishes you know they'll love and save money by easily making them at home.
Get free sample recipes just for visiting the site.
See the full list of Americas Most Wanted Secret Recipes
Chicken Recipe Search
If you can't find what your're looking for, you might want to try our easy-to-use Chicken Recipe Search Box. You can also use it to find anything else you might want to search for on the wider web.



Other Chicken-Cooked-In-Sauce Recipes

Chicken Curry Recipe Mainpage

Great Chicken Recipes Homepage