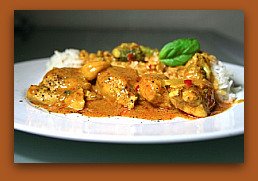 Moroccan Chicken Recipe
Moroccan Chicken with Chilli and Couscous
You will notice that most Moroccan Dishes like this Moroccan Chicken Recipe use the fragrance and flavour of lemons as an essential ingredient.



It's exciting to try dishes from other nations and cultures. I love the way the spices are combined and the fragrant aroma that wafts through my kitchen while cooking.
Couscous is a central ingredient in many Moroccan dishes and it is quite simple to prepare. This is such an easy chicken recipe but the exotic flavor from the spices makes it seem far more sophisticated.
Moroccan Chicken Recipe Ingredients
Preparation Time: 5 minutesCook Time: 10 minutes
4 chicken breasts, cut into strips
250g (9 oz) couscous
300ml (1/2) pint chicken stock or vegetable stock (boiling hot)
1 teaspoon cinnamon
salt and freshly ground black pepper
1 tablespoon olive oil
1 red chilli, sliced
25g (1 oz) pine nuts
juice and zest of 1 lemon
6 tablespoons of water
How To cook Moroccan Chicken
To prepare the couscous: place the cousous in a large bowl, pour over the hot stock and leave to soak for 5 minutes. It should absorb the stock and begin to expand.
Season the chicken with cinnamon, salt and pepper, and stir-fry in hot oil for 6 - 8 minutes. Add the chilli and pine nuts and cook for a further minute.
Stir in the lemon juice, zest and 6 tablespoons water. Let it bubble rapidly until slightly reduced. Spoon chicken and sauce over herbed couscous and serve immediately.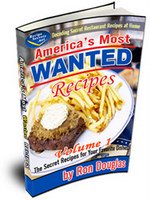 Looking for ideas for dinner?
Get inside the hidden cookbooks of America's favorite restaurants. The secret recipes for over 100 all-time favorite dishes have now been revealed in this best-selling new cookbook.
Prepare dishes you know they'll love and save money by easily making them at home.
Get free sample recipes just for visiting the site.
See the full list of Americas Most Wanted Secret Recipes
Find Your Favourite Chicken Recipe
If you can't find what your're looking for, you might want to try our easy-to-use Chicken Recipe Search Box. You can also use it to find anything else you might want to search for on the wider web.


Top of this Moroccan Chicken Recipe

Moroccan Chicken Recipe with Couscous

Easy Chicken Recipes Homepage