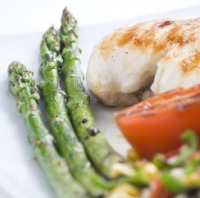 Chicken and Rice Recipe
Delicious Chicken and Asparagus with Rice
Rice cooked in white wine and flavorful chicken stock make this chicken and rice recipe delicious. Parmesan cheese is one of my favourite ingredients to cook with because of the intense flavour it brings to dishes. This is a bit of a labour intense chicken recipe because you have to stand and stir the rice while it cooks.


You could also call this a chicken and rice casserole recipe or a white wine chicken recipe. It can feed about 4 people but you could probably feed one or two more if you serve it with vegetables and warm crusty bread rolls. I like to bulk it up by adding in a cup of frozen peas and corn.
Chicken and Rice Recipe Ingredients
1 1/2 litres (6 cups) chicken stock
250ml (1 cup) dry white wine
6 whole black pepper corns
2 bay leaves
30ml olive oil
40g butter
600g boneless, skinless chicken breast fillets
1 leek, sliced
2 cloves of garlic crushed
440g rice
1 cup frozen peas and corn (optional)
200g fresh asparagus cut into 3cm lengths
50g grated Parmesan cheese
30ml lemon juice
45ml chopped parsley
30ml lemon juice
To garnish: freshly ground black pepper, chopped parsley and shaved Parmesan cheese
How To Cook Sauteed Chicken Breasts With Asparagus and Rice
Heat the chicken stock, wine, peppercorns and bay leaves in a heavy-based saucepan. Bring to the boil and cook the liquid for 5 minutes, strain out the peppercorns and bay leaves and return the wine/stock to the pan. Keep on the stove at a low simmer.
Heat the oil and half the butter in a deep pan. Then add the chicken breasts and saute over a medium heat for five minutes or until golden brown. Remove the chicken breasts from the pan and set aside to cool. Add the chopped leek and crushed garlic to the pan, saute until softened.
Slice the sauteed chicken breasts (when cooled) into cubes and set aside to add back to the dish at the end.
Add the rice to the pan with a sauteed leek and garlic. Then add 125ml chicken stock to the rice, stirring until absorbed. Continue adding stock, 125ml at a time, stirring constantly until the chicken stock is absorbed and the rice is tender.
Add in the asparagus and chicken after the last addition of chicken stock. If you are adding in the frozen peas and corn then do so now. Cook for five minutes or until chicken is cooked through and the frozen peas and corn are done. Gently stir in the grated Parmesan cheese, lemon juice, parsley and remaining butter. Season to taste and serve garnished with the freshly ground black pepper, Parmesan shavings and a sprinkling of chopped parsley.
Revealed: America's Secret Restaurant Recipes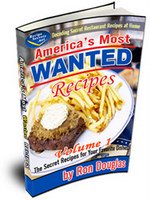 Looking for ideas for dinner?
Get inside the hidden cookbooks of America's favorite restaurants. The secret recipes for over 100 all-time favorite dishes have now been revealed in this best-selling new cookbook.
Prepare dishes you know they'll love and save money by easily making them at home.
Get free sample recipes just for visiting the site.
See the full list of Americas Most Wanted Secret Recipes
Chicken Recipe Search Tool
If you can't find what your're looking for, you might want to try our easy-to-use Chicken Recipe Search Box. You can also use it to find anything else you might want to search for on the wider web.


More Chicken Breast Recipes

Another Chicken and Rice Recipe - Chicken and Pilaf Rice Recipe

Another fabulous chicken and rice recipe is this Spanish Chicken Recipe

Top of this Chicken and Rice Recipe

Chicken Recipes Homepage