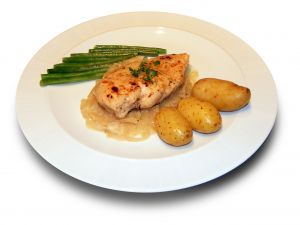 Chicken Fricassee Recipes
Chicken Fricassee with Mushrooms and Leeks
I'm feeling all romantic with this Chicken Fricassee Recipe. Also called Fricassee De Poulet, it sounds so sophisticated but of course it's easy to make. This chicken dish is quite rich because the Chicken Breasts are cooked in wine and cream.
Attempt French Cuisine at home and don't feel intimidated.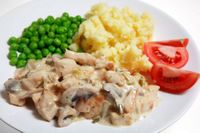 I am particularly fond of Chicken Fricassee with mash potatoes. The creamy sauce seems to go well with the mash and I always serve peas with mash so it's become a standard meal in my house.


Chicken Fricassee Recipe Ingredients
Chicken in white wine sauce is a delicious idea for serving at a dinner party and you can serve the same wine with dinner to compliment the meal.
4 - 6 chicken breasts, deboned and skinless
4 leeks, sliced
350 grams white mushrooms, thickly sliced
5ml (1 teaspoon) crushed garlic
250 ml (1 cup) white wine
125 ml (1/2 cup) cream
salt and pepper
olive oil for frying
Chicken Fricassee Cooking Instructions
Season the chicken breasts with the salt and pepper. Heat the olive oil in a frying pan and fry the chicken breasts until they are cooked through. Set the chicken aside.
In the same frying pan, fry the leeks, mushrooms and garlic until it begins to soften. Add the wine and simmer until the liquid has reduced by two-thirds.
Add the cream and the chicken and heat through but be careful not to let the cream start to boil.
Season if necessary and serve with rice or pasta or mashed potatoes.


More French Chicken Recipes

Chicken Sauces and Marinades



Top Of Chicken Fricassee Recipes

Great Chicken Recipes Homepage