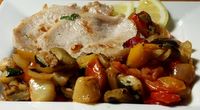 Chicken Pasta Recipe
Chicken and Pasta with Bacon and Sage in creamy sauce.
I love this easy Chicken Pasta Recipe. Boneless, skinless chicken breasts sauteed in garlic with bacon and stirred into a creamy sauce. Then flavoured with sage, parsley and parmesan cheese.
Delicious Sauted Chicken Breast With Bacon in a Creamy Sauce
I find that farfalle pasta (bow tie pasta) is the nicest for this recipe but you could use whatever you prefer - macaroni is another good option. Pasta chicken recipes are wonderful for kids (especially little kids who find the bow pasta a novelty).
Chicken and pasta also make easy family meals because they feed lots of people. Use fresh herbs for the best flavours.
Chicken Pasta Recipe - With Bacon and Sage
400g pasta of your choice ( I like farfalle)
4 skinless, boneless chicken breasts
3 tbsp olive oil
8 rashers of streaky bacon, chopped into squares
1 large garlic clove, finely chopped
300ml double cream
150g peas
60g freshly grated parmesan cheese
a handful of freshly chopped sage leaves
handful of flat-leaf parsley, chopped
How to make This Chicken Pasta Recipe
While you are making the chicken and sauce, cook the pasta according to the packet instructions - usually cooked in a pot of boiling salted water until the pasta is al dente. Drain and set aside.
Heat the oil in a frying pan and add the chopped chicken breast. Saute for about 4 minutes or until the chicken is a golden brown. Remove the chicken from the pan and set it aside.
Add the bacon to the pan and fry for 3 -4 minutes or until cooked.
Add the garlic and fry for a minute. Pour in the cream and bring to the boil. Let it simmer for 5 minutes until reduced and thickened slightly.
Add the peas and the sauteed chicken and bring back to a simmer. Cook for another 3 - 4 minutes.
Stir the parmesan cheese into the sauce and add seasonings to taste.
Tip the cooked, drained pasta into the sauce and add the herbs. Toss until the pasta is well coated in the ceam sauce.
Sprinkle a little more parmesan over each plate of chicken pasta before serving.
Chicken Recipe Search Tool
If you can't find what your're looking for, you might want to try our easy-to-use Chicken Recipe Search Box. You can also use it to find anything else you might want to search for on the wider web.


Chicken Casserole with Parsnips and Sage

Chicken and Asparagus Pasta Recipe

Top of Chicken Pasta Recipe

Chicken Recipes Homepage