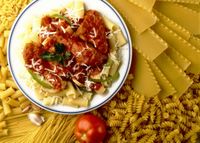 Chicken Chasseur Recipe
Classic French Chicken in White Wine Sauce


A french Classic Recipe : Chicken Chasseur Recipe is a great Chicken in wine sauce Recipe to try. If you have left over chicken, it's easy to make up a sauce, mix in the chicken and pour over pasta with a salad on the side.
It's also a good boneless chicken breast recipe. As for any recipe the better quality the ingredients you use, the better the final dish will be. You can experiment as I have below to attain a flavour you prefer. Chassuer is a French White wine
I like to serve Chicken Chasseur over pasta. Pasta is healthy and low GI which means you are fuller for longer and it stabilises blood sugar. We'll not say anything about the cream.....
Chasseur Recipe Ingredients
Serves 6
4 deboned, skinless chicken breasts
butter and oil for frying
salt, freshly ground black pepper
2 large onions
1/4 teaspoon crushed garlic
300g button mushrooms
2 large, ripe tomatoes, skinned and chopped
1/2cup (125ml) chicken stock
1 cup (250ml) cream
1/2 cup (125ml)Chasseur (white wine)
1/2 teaspoon (2ml) paprika
1 teaspoon (5ml) Dijon mustard
Enough of your favourite pasta for 6 people
How To Cook Chicken Chasseur
Slice chicken into strips. Heat butter and oil in a wide, heavy frying pan and brown chicken lightly in batches. This will give the chicken a nice flavour and look. Remove chicken from the pan, set aside and season lightly with salt and pepper.
Heat extra butter in the pan and sauté the onion until golden. Add garlic, mushrooms and tomato, stir fry for a minute, then add stock, cream, Chasseur, seasoning and mustard. Boil uncovered until the sauce thickens.
Add chicken and heat through. Serve over the pasta cooked as per the directions on the packet.

Coq au Vin is another classic French Chicken Recipe but the chicken is cooked in a red wine.

If you enjoy French Cooking then also try this Crock Pot Chicken Marengo Recipe where the sauce is flavoured by brandy.

Marinade and Sauces mainpage

Chicken Ala King Recipe

Top of Chicken Chasseur