Garlic Chicken Recipe Collection
Delicious Easy Garlic Recipes for Chicken
I love cooking with garlic so my Garlic Chicken Recipe Collection is quite well used for easy and delicious dinner ideas.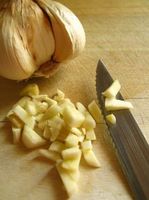 Garlic is an a amazing flavourant because it has a different taste depending on how it's cooked - it can have a subtle sweet flavour to a strong almost overpowering one. You can use fresh garlic or ready crushed garlic, or even garlic powder. It's also nice to cook with garlic infused olive oil.
Garlic is also well known for its health benefits.
Tuscan Garlic Chicken as made by the famous Olive Garden Restaurant. I've never been to Olive Garden because I don't live in the USA. But this Tuscan Garlic chicken is highly spoken of by those who've tried it.
A seriously delicious Chicken Kiev Recipe taken from a classic French collection of stuffed chicken breast recipes. The boneless chicken breasts are stuffed with a delicious herb and garlic mix then crisp coated and fried or baked..
When my neighbour cooks this Curry Chicken Recipe the most amazing aromas float over my garden wall. The freshly ground spices and herbs including 3 cloves of garlic, mean it requires a little more time for preparation but results in magic flavours.
Not being a fan of bought crumbed chicken, here is a lovely crumbed chicken recipe flavoured with garlic and herbs.
This Baked Garlic Chicken Recipe has great flavour. Easy to prepare and a great dinner idea especially if you like garlic.
I found this 40 Clove Garlic Chicken Recipe and had to try it out for dinner because the 40 cloves of garlic really intrigued me. That's a lot of garlic for a baked chicken recipe, even for a garlic lover so I wasn't sure what to expect. Its surprising because garlic comes out quite mild and has a buttery texture when cooked through.
Garlic and Maple Roast Chicken Recipes
This Roast Chicken Recipe has a superb sweet, garlic baste. The Maple coated chicken legs are oven roasted on a bed of potatoes and vegetables with fresh sprigs of thyme and extra garlic to make a flavour-packed Sunday lunch.
Lemon and Garlic Roast Chicken Recipe
Simple but elegant Lemon Roast Chicken Recipe is a favourite oven roasted chicken with great lemon and garlic flavors.
Garlic Chicken and Rice Recipe
Rice cooked in white wine and flavorful chicken stock make this chicken and rice recipe delicious. Parmesan cheese is one of my favourite ingredients to cook with because of the intense flavour it brings to dishes.


Chicken Recipe Search Tool
If you can't find what your're looking for, you might want to try our easy-to-use Chicken Recipe Search Box. You can also use it to find anything else you might want to search for on the wider web.


See my tips for buying Chicken and cooking chicken.

Top of Garlic Chicken Recipe Collection

Chicken Recipes Homepage