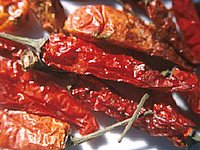 White Chicken Chili Recipe
White Bean Chicken Chili Recipe
There are so many variations to the White Chicken Chili Recipe. It's difficult to choose a recipe for White Chili chicken that's the best. You'll definately want to experiment with this recipe as it is quite basic.
The heat factor is really up to you. You can add extra chili powder, cayenne pepper (which also has amazing health benefits) and varieties of fresh chili.
"Heat this recipe up with your choice of chili."

I like my White Bean Chicken Chili with a bit of texture variety so I add several different beans, including kidney, garbanzo or black beans, or add more chopped vegetables, such as carrots and celery. I also see that some White Bean Chili Recipes use a can of tomatoes and this gives a great colour to the Chicken Chili.
The best meat to use is boneless chicken breast because it cooks quickly and easily and is beautifully flavored by the spices.
White Chicken Chili Recipe Ingredients
1 tablespoon cooking oil (olive or vegetable)
1 cup chopped onion
2 cloves of garlic, crushed
2 cups chicken broth or stock
1 cup diced jalapeno peppers
1 cup chopped green chili peppers
2 teaspoons ground cumin
1 teaspoon Tabasco sauce
½ teaspoon salt
½ teaspoon pepper
3 cups chopped cooked chicken breast
3 (15 ounce) cans white beans (Cannelini or Great Northern)
1 ½ cups grated cheese (like Monterey Jack)
½ cup sour cream
How To Make Chicken Chili
Choose a pan that will be large enough to hold all the ingredients. Heat the oil in the pan and then fry the onion and garlic until translucent - about 3 minutes.
Add in the jalapeno, green chile peppers, cumin, and Tabasco. Continue to cook and stir the mixture until tender, about 3 to 5 minutes.
Add to this the chicken broth, shredded chicken and white beans. Season to tase with the salt and pepper. Simmer for 15 minutes, stirring occasionally.
Just before serving, add the sour cream and grated cheese. Hope you enjoy this Mexican Chicken Recipe.


More Spicy Chicken Recipes
Find Your Favourite Chili Recipe
If you can't find what your're looking for, you might want to try our easy-to-use Recipe Search Box. You can also use it to find anything else you might want to search for on the wider web.