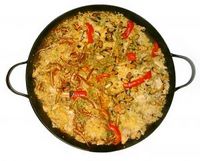 Spanish Chicken Recipe
Delicious Spanish Rice With Chicken
I often make this Spanish Chicken Recipe with Spanish Rice for dinner parties and almost everyone asks for a second helping and the recipe. I have a feeling it should be called Spanish Rice and Chicken as I've seen some Spanish Rice recipes that look very similar. It's a very useful chicken and rice recipe to have on hand, although it does require a bit of effort, it is very rewarding in the compliments you'll receive.


"The secret to Great Spanish Chicken Paella Recipe is in the wine and the stock."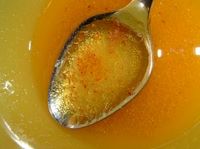 This Spanish Chicken Recipe has great flavour and the rice makes it feed at least 6 people, so it's quite economical. I usually do the whole dish in a cast iron pot but you can start in a frying pan and then transfer to a casserole dish when it's ready to go in the oven.
If there is Paella left, it definately tastes better the next day so you can keep it in the refidgerator over night for the flavours to develope.
Spanish Rice and Chicken Recipe Ingredients
1 whole chicken
1 carrot
1 whole onion
1 stalk of celery with leaves, chopped
1 cup uncooked white rice
1 tomato peeled and chopped
1 onion chopped
1 green pepper chopped
1 packet Chicken Noodle Soup powder
1 tin creamed mushrooms
half a cup (125ml) dry white wine
3 cups of chicken stock reserved from the cooking of the chicken
1 Tbs granulated sugar (brown or white)
salt and pepper
How to Cook This Spanish Chicken Recipe and Rice
Place the whole chicken, onion, celery and carrot into a stock pot. Put in enough water to reach half-way up the chicken. You can also add a bit of wine to the water a sit gives stock a fabulous flavour. Simmer until the chicken is coming off the bone - about 2 hours.
Take the whole chicken out of the stock and reserve 3 cups of stock. The onion, celery and carrot should have lost their flavour to the stock but you can keep them in the stock for cooking the rest of the dish or discard them. Remove the chicken meat from the bones and discard the bones.
In a large, shallow pot fry the chopped onion and green pepper in a little oil until soft. Add the rice and tomato and fry until the rice begins to turn a gold colour.
Dissolve the chicken noodle soup in the 3 cups of chicken stock.Add to the rice mixture with the creamed mushrooms and wine. Stir in the chicken meat.
Place in a casserole dish, cover and cook in the ovenat 180 degrees C (350 degrees F) until the rice is cooked - about 1 hour. Check on it about half way through the cooking time to make sure you have enough liquid for the rice to cook properly. Add more stock or boiling water if needed.
This Spanish Chicken Recipe goes well with a green salad or steamed vegetables. This recipe can also be doubled to feed more people. It is one of my favourite chicken recipes and I hope you enjoy it too.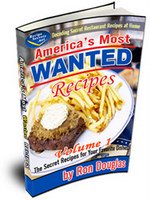 Looking for ideas for dinner?
Get inside the hidden cookbooks of America's favorite restaurants. The secret recipes for over 100 all-time favorite dishes have now been revealed in this best-selling new cookbook.
Prepare dishes you know they'll love and save money by easily making them at home.
Get free sample recipes just for visiting the site.
See the full list of Americas Most Wanted Secret Recipes
Find Your Favourite Chicken Recipe
If you can't find what your're looking for, you might want to try our easy-to-use Chicken Recipe Search Box. You can also use it to find anything else you might want to search for on the wider web.
Spanish Chicken Stew Recipe
Baked Chicken Recipes
Top of this
Spanish Chicken Recipe
Chicken Casserole Recipes Mainpage
Chicken Recipes Homepage