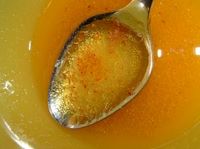 Chicken Stock Recipe
Homemade Chicken Stock For Delicious Chicken Dishes
I've been trying to perfect my Chicken Stock Recipe because I can thoroughly vouch for the flavour benefits of making my own stock. Making your own Homemade Chicken Stock could be called a fabulous investment of your time. It's often listed as a main ingredient for chicken recipes as well as many others and gives a rich chicken flavour to dishes.
Homemade Chicken Stock adds amazing flavor to your cooking.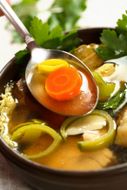 Stock is basically a flavored broth and many recipes use the term broth and stock interchangeably. There is difference between them tough. One of my favourite chicken recipes that uses a chicken stock is this Spanish Chicken and rice recipe.

The chicken stock recipe below can be cooked in bulk and frozen for when needed. Chicken stock cubes and powders are available commercially but homemade stock is always nicer and healthier. Fresh, homemade stocks contain no preservatives or artificial flavourants so you'll taste the difference in the meals that you cook.
Chef's Best Chicken Stock Tips
Always start with cold water as this encourages the flavor of the vegetables and chicken bones to infuse the liquid, producing complex flavors and rich color. Hot water seals the outside of the stock ingredients resulting in a weaker broth.
Once the stock has just come to the boil, turn the heat down and let t simmer gently. If stock is cooked over too high a temperature you will get cloudy instead of clear results.
If you are using fresh herbs, then they should only be added in the last minutes of cooking as extended cooking will degrade the oils that are released.
Chicken wings are best for a chicken stock recipe because they make a good jellied stock.
Avoid excessive use of salt when seasoning stock. Most stock is reduced when creating other dishes so it's saltiness will naturally increase.
Try not to use potatoes as they make your stock cloudy.
Store fresh stock in the fridge for up to 3 days.
Freeze stock for up to 6 months.
---
Chicken Stock Recipe
This recipe makes about 1.25 litres of chicken stock
600g chicken wings

1 chopped carrot
1 chopped celery stick
1 chopped large onion
1 chopped leek
1 bay leaf
20ml chopped parsley
10ml fresh thyme
1.25 litres of water
salt and pepper corns to season
dash of cinnamon
Place all the ingredients except the parsley and thyme into a large pot. Slowly bring to the boil, then reduce heat and allow to simmer for about 2 hours. Add more water if necessary during the cooking process. In the last 15 minutes of cooking add the fresh herbs. Strain the stock and discard the bones and vegetables. Cool overnight and strain the surface fat. Keep the chicken stock refrigerated or freeze.
This chicken stock recipe is not set in stone. Feel free to experiment with different herbs, cooking times and vegetable ingredients.
More Chicken Soup Recipe Ideas


Tarragon & Tomato Chicken Broth Recipe

Try a Delicious Homemade Chicken Soup Recipe

Chicken Noodle Soup Recipes