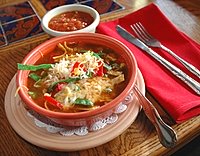 Chicken Noodle Soup Recipe
Find a Homemade Chicken Noodle Soup Recipe
Here are some variations of the Homemade Chicken Noodle Soup Recipe. Homemade soup is much better than soup warmed from a can. It's also a lot healthier with less additives, hidden salt and artificial flavourants.

Homemade Chicken Noodle Soup - Comfort Food Suitable For Any Time Of Year



Most are simple to cook and they are all delicious. If you like spicy soup, try the Oriental versian or choose 'Quick and Easy' if you are in a hurry (you don't even have to scroll far).



Get fabulous variations of Noodle Soup Recipes in this Real and Healthy Chinese Cook Book
Quick 'n Easy Homemade Chicken Noodle Soup Recipe
2.25 litres chicken stock
1 cup of thin egg noodles
1 1/2 cups of cooked chicken
1/2 cup of fresh parsley (chopped)
1 Teaspoon fresh thyme (chopped)
Chopped Chives to taste
Chicken Noodle Soup Method
Bring the stock to the boil in a larg pot.Add the chicken strips and simmer for 5 minutes.Add the noodles, parsley, thyme and chives. Simmerover a low heat for 20 minutes or until the noodles are cooked. Season and serve the chicken noodle soup immediately with warm, crusty bread before the noodles go soggy.


Join My "Cooked Up" Newsletter

You might love to receive our personal newsletter called Cooked Up. It's packed with great recipes, cooking tips and other interesting news. I invite you to safely subscribe in the form below..... Oh and of course it's free!


---
Chicken Noodle Soup Recipe
1 1/2 kg (3 lb) chicken wings
2 diced celery sticks
2 diced carrots
1 onion halved
1 Bay leaf
3 sprigs parsley
60 g thin egg noodles
300 g chopped chicken breast
Cooking Homemade Chicken Noodle Soup
To make the basic broth, place the chicken wings,carrots, onion, and herbs in a large pot.Cover with about 2 litres of water and add salt totaste.
Bring to the boil and simmer slowly for about 1 hour.Skim excess fat and froth from the surface. Once cooled,remove the chicken and vegetables. Skim off surface fatas the stock cools in the refrigerator.
Return cooled stock to the heat and slowly bring to the boil,add the chicken breast and noodles and allow to simmeruntil the noodles are tender. Season to taste.


---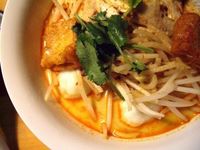 Oriental Chicken Noodle Soup Recipe
I love serving this as a starter dish because the intense flavours realy kickstart the digestive juices.
1 litre chicken stock
4 small chillies, finely chopped (remove seeds)
50 ml finely sliced ginger
3 sliced cloves of garlic
1 teaspoon sugar
2 teaspoons sesame oil
2 teaspoons sweet soy sauce
250ml (half cup) coconut milk
2 tablespoons soy sauce
3 chicken breast fillets, thinly sliced
1 onion sliced
1 can bamboo shoots
4 Bok choy (pak choy) halved and rinsed
350g egg noodles
Cooking the Chicken Noodle Soup
Combine the first 7 ingredients in a large potand bring to the boil. Reduce to a simmer for another 5 minutes and set this stock aside.
Heat the coconut milk in a pan and add the chicken and soy saucethen simmer for 5 minutes until chicken is just cooked.Remove from the heat and stir this into the stock.
Add the remaining ingredients and bring to the boil, simmeruntil the noodles are tender. Garnish with fresh coriander.


Find Your Favourite Chicken Recipe
If you can't find what your're looking for, you might want to try our easy-to-use Chicken Recipe Search Box. You can also use it to find anything else you might want to search for on the wider web.


Tarragon Chicken Broth Recipe with Tomatoes

Chicken Noodle Soup with Ginger and Garlic especially good for helping ease the symptoms of colds or flu.

Top of Chicken Noodle Soup Recipe

More Chicken Soup Recipe Ideas



Chicken Recipes Homepage