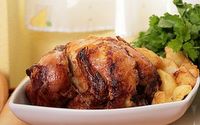 Lemon Roast Chicken Recipe
Garlic and Lemon Roast Chicken
A delicious and easy lemon roast chicken recipe. It's so simple to prepare and the lemon with garlic flavors the chicken meat beautifully. Of course you are not limited to these ingredients. As a whole chicken recipe this rates as one of the tastiest.



I encourage you to experiment with different herbs and flavour combinations. That's the beauty of roast chicken - you can try so many variations of cooking a whole chicken.
Lemon Roast Chicken Recipe Ingredients
Serves 4 - 6
1 whole chicken for roasting
2 cloves of fresh garlic or two heaped teaspoon crushed garlic
1 lemon
olive oil
1 tablespoon dried rosemary
How To Roast Lemon and Garlic Chicken
Preheat the oven to 180 degrees C or 375 degrees F.Remove the giblets from the chicken if they are still inside. Crush the garlic. Place the lemon and one of the crushed garlic cloves in the chicken cavity.
Truss if you want to by tying the legs together and tucking the wings under the bird.
Place in the roaster and brush with the olive oil. Rub the second crushed garlic clove over the skin and then sprinkle with the rosemary. Roast until the juices run clear and the chicken isdone to your liking.
The roast chicken cooking time will vary depending on your oven setting and the size of the chicken you roast.

More Lemon Chicken Recipes
Fried Lemon Chicken Recipe
Lemon Chicken Casserole Recipe
BBQ Chicken Recipe
Honey Glazed Chicken Recipe
Roast Chicken With Lemon Stuffing Recipe
Our "Cooked Up" Newsletter
You might love to receive our personal newsletter called Cooked Up. It's packed with great recipes, cooking tips and other interesting news. I invite you to safely subscribe in the form below..... Oh and of course it's free!
Chicken Recipe Search Tool
If you can't find what your're looking for, you might wantto try our easy-to-use Chicken Recipe Search Box. You can also use it to find anything else you might want to search for on the wider web.


Top Of Lemon Roast Chicken Recipe



Roast Chicken Recipes Mainpage

Chicken Recipes Homepage