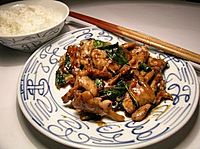 Cooking with lemon grass gives chicken stir fry recipes a wonderful flavour and fills the kitchen with lemony aromas. This is a really easy chicken recipe with the most effort being in the preparation.



For the best stir fry results you should cook in a very hot wok or pan. This chicken stir fry can be served with rice or noodles.


Chicken Stir Fry Recipe with Lemon Grass
Serves 4
Ingredients
2 tablespoons oil
2 medium onions, chopped
4 chopped garlic cloves
4 stems finely chopped lemon grass
1 small chopped chili
1 tablespoon grated fresh ginger
500g (1lb) thinly sliced chicken fillets
2 teaspoons sugar
1 tablespoon fish sauce
Stir Fry Recipe Instructions
Heat the oil in a wok or a heavy- based frying pan. Add the onion, garlic, ginger, lemon grass and chili and stir over a medium heat for about 4 minutes and the mix is turning a golden brown.
Turn up the heat and add the chicken and sugar. Stir regularly until the chicken is just cooked. Then add the fish sauce and cook for another 2 minutes. Serve with rice or noodles.


---
Chicken Stir Fry Recipe with Mango
Serves 4 - 6
750g (3lb) boneless, skinless chicken breasts
60ml sunflower oil
10ml sesame oil
3 cloves garlic, crushed
10ml (2 teaspoons) sliced fresh ginger
half a cup of chopped spring onions
3 stalks / ribs of celery, sliced
1 red pepper cut into strips
2-3 carrots, grated
15ml crushed coriander and cummin paste
2 large under ripe mangoes, sliced into strips
75ml chicken stock
30ml soy sauce
30ml chopped coriander,mint or parsley
cooked rice or noodles to serve
Chicken Stir Fry Recipe Instructions
Slice the chicken breasts into long thin strips and place them in a bowl.Measure out half the sunflower oil and half the sesame oil, mix with the garlic and ginger and then pour over the chicken. Make sure the chickenbreast strips are well coated and then leave to marinade in the refridgeratorfor at least one hour (don't forget to cover it) .
Heat the remaining oils in your wok or skillet, add the spring onions, celery,red pepper, carrots,and the coriander and cummin paste. Stir fry the vegetables fora few minutes.
Add the chicken and continue to stir fry for a further 5 - 7 minutes. The last step is adding the mangoes and you just want to keep it on the heat long enough to heat through.So stir in the mangoes, chicken stock and soy sauce. Season with salt and black pepperif needed. Once heated through, sprinkle with the chopped herb you chose (coriander, mint or parsley)and serve with noodles or rice.


Top of Chicken stir Fry Recipes.