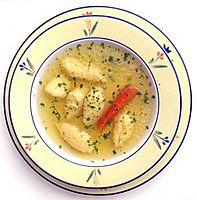 Chicken Coconut Soup Recipe
Tom Kha Gai
A Taiwanese friend gave me this Chicken Coconut Soup Recipe to try. He told me that it is a classic Thai soup recipe also known as Tom Kha Gai.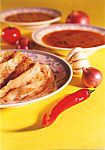 It's a simple soup to make with the wonderful flavour coming from the galangal or Siamese ginger which is a root similar to ordinary ginger. The coconut milk adds to the creaminess and flavour. Be aware of the chillis making this quite a spicy chicken soup. You can adjust the quantity of chili to suit your taste preference.
Tom Kha Gai / Chicken Soup Ingredients
2 cups chicken stock
2 cups coconut milk
5cm piece galangal or common ginger
4 chicken breasts sliced into thin strips
1 stalk lemon grass chopped
peel of a small lime
1 tablespoon coconut palm sugar or soft brown sugar
2 tablespoons fish sauce
2 small red chillies, finely chopped
3 tablespoons fresh lemon juice
How To Cook Chicken Coconut Soup
Combine the stock, ginger, lime peel and lemongrass in a large soup pot and bring to the boil.
Let this simmer for about two minutes then add the coconut milk. This should simmer for another 10 minutes. Stir occasionally.
Add the chicken and the chilli and return to the boil for another 8 minutes.
Stir in the lemon juice sugar and fish sauce and allow to simmer for another minute.


Our "Cooked Up" Newsletter
You might love to receive our personal newsletter called Cooked Up. It's packed with great recipes, cooking tips and other interesting news. I invite you to safely subscribe in the form below..... Oh and of course it's free!
Chicken Recipe Search Tool
If you can't find what your're looking for, you might want to try our easy-to-use Chicken Recipe Search Box. You can also use it to find anything else you might want to search for on the wider web.


More Spicy and Chili Chicken Recipes
Chicken Soup Recipes Mainpage

Top Of Chicken Coconut Soup Recipe

Great Chicken Recipes Homepage