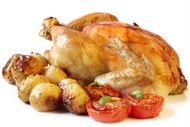 Thai Roast Chicken Recipe
Thai Cooking Made Easy
The secret to Thai Cooking is in the ingredients. The marinade for this Thai Roast Chicken Recipe has all the fiery Thailand ingredients that often appear in Thai cooking. To make the most of the recipe, the chicken needs a bit of time to marinade so it isn't ideal if you are short on cooking time.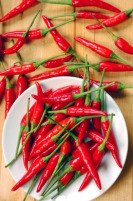 Thai Roast Chicken
1 medium roasting chicken
1 small onion, finely chopped
1 clove garlic, crushed
5ml (1 teaspoon) chili powder (or more according to your burn preference)
2 teaspoons Thai green curry paste
2 teaspoons freshly grated ginger
2 tablespoons lime juice
2 teaspoons fish sauce
1 cup (250 ml) coconut milk
2 tablespoons freshly chopped coriander leaves
15ml oil
Thai Roast Chicken Recipe Instructions
Preheat the oven to 180 deg C / 350 deg F /gas mark 4.
Prepare the chicken by rinsing it and drying it thoroughly.
Remove the innards/giblets if necessary and place the chicken in a pan or dish for marinading.
Combing the rest of the ingredients for the marinade in a bowl and mix thoroughly. I find that it is most effective to combine them in the food processor.
Pour the marinade over the chicken as well as inside the cavity.
Cover and allow it to stand in the fridge for at least 1 hour but 4 hours is ideal.
Move the chicken to your roaster or better still a wire rack that is above the pan because it results in a crispier skin.
Roast the chicken for about an hour and a half or until the chicken is done. You can baste it occassionally if you wish to.
If you enjoy
Thai Chicken Recipes
then this
Chicken Satay Recipe
might impress you.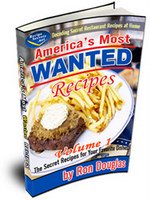 Revealed: America's Secret Restaurant Recipes
Get inside the hidden cookbooks of America's favorite restaurants. The secret recipes for over 100 all-time favorite dishes have now been revealed in this best-selling new cookbook.
Chicken Recipe Search Tool
If you can't find what your're looking for, you might want to try our easy-to-use Chicken Recipe Search Box. You can also use it to find anything else you might want to search for on the wider web.


Roast Chicken Recipe Main Page

More Chinese Food Recipes

Lime and Garam Masala Roasted Chicken Recipe


Top Of Thai Roast Chicken Recipe
Chicken Recipes Homepage