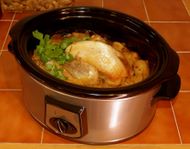 Crock Pot Roast Recipe
Tender Slow Cooker Pot Roast Chicken
This is a superb Crock Pot Roast recipe. It produces a tender roast whole chicken that can be served with roast potatoes and vegetables. The slow cooker is ideal for a pot roast.

"Try this easy roast chicken dinner idea in your slow cooker."
Seems everyone is short on time these days. The crockpot is an ironic appliance in that it saves a person time but is the slowest form of cooking. Nonetheless, the resulting meals are flavoursome and hearty. Many working wives and moms swear by it's convenience.
I really find that buying a whole chicken is really great value for money. Stores often have them on sale and I keep a back-up of them in the freezer (be sure to keep track of sell-by dates).
This is also a great method of cooking a whole chicken if you need to take the cooked meat off the bone for some another chicken dish. Keep the liquid/gravy that is formed and put the bones of the chicken back in the pot of liquid. Add about another 4 cups of water and a whole onion (peeled) and a whole carrot. Leave on low heat over night and you will have a lovely chicken broth or stock in the morning. Just strain the bones, onion and carrot out.
This easy Crock Pot Roast Recipe for chicken is simple and quick to prepare. It doesn't have the crispy skin of an oven roasted chicken but then you can always remove the chicken from the crockpot when it's cooked and put it under the oven grill for 15 minutes or until the skin is crispy. Just be careful not to dry the chicken meat out.
Depending on who you are feeding this Crock pot roast recipe will probably serve 2 - 4 people.


Slow Cooker Pot Roast Chicken Recipe Ingredients
1 small chicken
50 g (2 oz) butter
2 tablespoons (15ml) oil
salt and pepper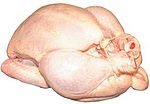 How To Make Crock Pot Roast Chicken
Wipe the chicken well and season inside and out with the salt and pepper.
Heat the butter and oil in a large pan and brown the chicken on all sides. Place the chicken in your lightly greased crock pot. Cover and cook.

There are a few options for cooking times:

It can be cooked on high for 5 - 6 hours which is perfect for my crock pot.
Another option is to cook on high for 1 hour and then low for a further 4 - 5 hours.
It could also be cooked on low for approximately 8 hours or until the juices are running clear.

Crock Pot Roast Recipe Variations

There are no rules when it comes to seasoning your roast chicken. Roughly chopping up an onion and placing it with some crushed garlic in the chicken cavity makes a wonderful meal idea. You can also experiment with various herbs like Thyme and Sage or Rosemary for different flavour combinations.

Do not put a frozen chicken in the crock pot and it is not advisable to stuff a chicken before roasting in a crock pot.

Another superb crockpot roast chicken recipe is Crock pot Roast Chicken in Garlic and White Wine.



---

Get inside the hidden cookbooks of America's favorite restaurants. The secret recipes for over 100 all-time favorite dishes have now been revealed in this best-selling new cookbook.

Prepare dishes you know they'll love and save money by easily making them at home.

Get free sample recipes just for visiting the site.

See the full list of Americas Most Wanted Secret Recipes



Enjoy Another Free Chicken Recipe








Roast Chicken Recipes is a wonderful place to find other oven Roast Chicken Recipes and cooking tips as well as stuffing recipes.







Find Your Favourite Crock Pot Recipe




If you can't find what your're looking for, you might want to try our easy-to-use Chicken Recipe Search Box. You can also use it to find anything else you might want to search for on the wider web.



Tips For Buying Chicken

Top Of Crock Pot Roast Recipe

Crock Pot Recipes MainPage

Chicken Recipe Homepage