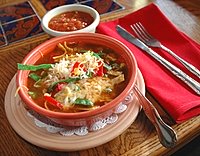 Chicken Tortilla Soup Recipe
Classic Mexican Chicken Recipe That The Kids Will Love
Your kids will love this Chicken Tortilla Soup recipe. It also makes a great dish for a Mexican theme party or a light supper or lunch time snack.



You can add more or less of the hot stuff according to your preference. As with many a Mexican Chicken Recipe, the sour cream makes it rich and creamy and mellows the spices.
This Mexican Chicken Recipe makes enough to serve 4 people.
Chicken Tortilla Soup Recipe Ingredients
1 chopped onion
2 chopped garlic cloves
4 chillies chopped and seeded
2 Tbsp vegetable oil
1 Litre (4 cups) chicken stock
1 lb. cubed cooked chicken
half cup sour cream
enough grated / crumbled cheddar cheese for each serving
10 corn tortillas cut into 1/4 inch strips
chopped cilantro or parsley to garnish.
Tortilla Soup Cooking Instructions
Heat the oil in a large saucepan, saute the onion,garlic and chillies until they are silghtly softened.
Add the next 8 ingredients and bring to the boil, simmer for 20 minutes.
While the soup is simmering, lay the tortilla stripson a baking tray and lightly brush with vegetable oil.
Bake the tortillas until crispy at 400 degrees F / 200 degrees C, turning frequently - try not to snack on any.
Back to the soup: After 20 minutes add the chickenand cook for a further 5 minutes then stir in the sour cream.
Serve your yummy Mexican cuisine in soup bowls and garnish with the baked tortilla chips, grated cheese and cilantro or parsley.
Here's a handy
Crockpot Chicken Tortilla Soup Recipe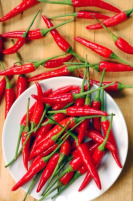 More Mexican Chicken Recipes


Loads more Chicken and Chilli Recipes
Chicken Soup Recipes Mainpage

Chicke Recipes Homepage