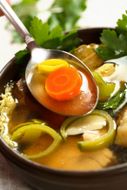 Cock-a-Leekie
Cock-a-Leekie Soup Recipe - A Traditional Scottish meal
I like the rich flavour of this Cock-a-leekie recipe.It is a traditional Scottish soup with chicken, leeks and prunes and is almost a stew. The prunes add a rich, deep flavor. If your children don't like the prunes, you can remove them (the prunes, not the children :-) before serving.


You either love or hate the preparation of making a homemade soup. The peeling, chopping, frying and then finally leaving it to simmer gently could seem rather time consuming and tedious especially when most of us are short of time.
I'm not particularly fond of lots of cooking preparation (especially in our summer heat) but strangely enough chopping all the vegetables is quite therapeutic. It's almost like a kind of meditation and when the chicken soup is done, I savour the comforting and nourishing reward of homecooked goodness.
Of course it doesn't hurt to invest in an electric chopper like the Tefal Fresh Express. This makes the prep simpler when making a bigger quantity of soup to freeze.
A delicious winter-warming chicken soup from Scotland.
This Scottish Chicken Soup is said to date back to medieval times and early versions may have used raisins as well.
Cock-a-Leekie Soup Recipe Ingredients
Makes 8 servings.
1/2 lbs. each skinless chicken breasts and thighs
4 cups fat-free, reduced-sodium chicken broth
1/2 cup diced carrots
1/2 cup diced celery
1/4 cup finely chopped onion
1 Tbsp. thyme
3 sprigs parsley
Salt and pepper to taste
1 bay leaf
2 medium leeks, thinly sliced (white and some green)
1/2 cup pearl barley
1/2 cup pitted, dried prunes cut in half
2 cups low-fat milk
How To Make Scottish Cock-a-Leekie Soup
In a stock pot, combine chicken, broth, carrots, celery, onion, thyme, parsley and bay leaf. Bring to boil, reduce heat, cover and simmer about 25 minutes, or until chicken is tender, skimming fat as chicken cooks.
Remove chicken, let it cool and, removing the bones, cut the meat into bite-size pieces. Discard bones, bay leaf and parsley.
Add chicken and remaining ingredients except milk to the pot. Cover and simmer gently until barley is tender, about 15 to 20 minutes. Stir in milk, heat and serve.
Top of Cock-a-Leekie Recipe

Chicken Soup Recipe Collection