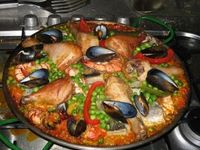 Chicken and Seafood Recipe
Chicken Paella Recipe

I like this Chicken and Seafood recipe because it is quite like a paella and works well served with a green salad. Besides, you cannot have an Asian cuisine page without some seafood recipes. If you can get fresh seafood, it willtaste even better.
Serves 4
Chicken and Seafood Recipe Ingredients
500g (1lb) raw prawns, medium sized, peeled and deveined
200g calamari
500g mussels, scrubbed and beards removed
3 tablespoons oil
2 chorizo sausages, thickly sliced
500g chicken pieces, (thighs are best)
3 crushed garlic cloves
2 medium onions, chopped
1 can chopped tomatoes
2 cups rice
1 1/4litres (1125 ml) hot chicken stock
1 red pepper thinly sliced
125g sliced green beans
How to cook Chicken and Seafood
In a large, heavy based frying pan heat some of the oil and frythe sausage until browned. Remove and drain on a paper towel. Add the chicken thighs and fry on each side until browned. Remove and drain on a paper towel. Heat the remaining oil in the pan and add the garlic and onion. Cook until the onion is soft. Add the tomato and cook for a further 3 minutes.
Add the rice and stir on a medium heat for about 5 minutes then stir in the hot stock and bring to the boil. Allow this to simmer for 10 minutes, then add back the chicken and cook for a further 20 minutes.
Add the seafood and the remaining vegetables, cover and cook until the liquid has been absorbed.

Asian Chicken Recipes

Top Of Chicken and Seafood Recipe

Chicken Recipes Homepage