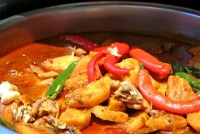 Curried Chicken Pie Recipe
Delicious Chicken Curry Encased In Fresh Shortcrust Pastry
Now you're probably wondering why a Curried Chicken Pie Recipe appears on my website when I'm not much of a curry fan. But, I'll let you in on a secret: this is seriously good chicken pie. Suprisingly enough I find curry flavour is mild and the mango chutney helps enhances the sweetness.

"Feed the whole family with a delicious chicken pie."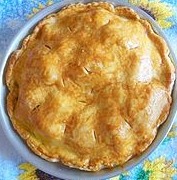 One thing I want to stress is that you shouldn't stress about the pastry. I know some people prefer to buy ready-made pastry and that's fine but I have included a very nice savoury pie pastry recipe here too....so go on and indulge in Curried Chicken Pie.
This recipe feeds about 6 people and requires a whole chicken. The chicken pie takes about 40 minutes to prepare and 1 hour to bake.

Curried Chicken Pie Recipe Ingredients
Pastry Ingredients
2 cups (250 g / 8 oz) plain flour
1 teaspoon ground tumeric
1 teaspoon ground cumin
125 g (4 oz) butter, cut into cubes
1 egg, lightly beaten
2 - 3 tablespoons cold water

Curried Chicken Pie Filling Ingredients

1 cooked chicken (this can be barbecued or poached - see how to poach a chicken)
40 g (1 ¾ oz) butter
1 onion, chopped
2 tablespoons curry powder( or more if you prefer hotter)
1 teaspoon cumin seeds
1 tablespoon plain four
1 ½ cups (375 ml / 12 fl oz) chicken stock
½cup (125 ml / 4 fl oz) cream
2 tablespoons fruit chutney (mango is very nice)
200 g (6½ oz) sweet potato, cubed and cooked
milk for glazing
How to make Curried Chicken Pie
If you've decided to use ready-made pastry then you can skip to the filling part. The secret to great pastry is to handle it as little as possible.
To make the pastry:
Place the flour (sifted), tumeric, cumin and butter into yourfood processor. Whizz the mixture for about 15 seconds or until you get a nice and fine, crumbly mixture.
Add in the cold water and the beaten egg and bring the mixture together by stirring with a knife blade.
Just as it forms a ball, turn it out onto a lightly floured surface.
Gently press together with your knuckles until it's smooth.
Cover with plastic wrap and place in the refrigerator until you are ready to use it.

Curried Chicken Pie Recipe Filling

Preheat your oven to 190 degrees C (375 F / Gas 5).
Now for a messy bit: Remove the skin and bones from the chicken meat and cut the meat into bite-sized pieces.
Heat up the butter in a large pan or deep frying pan and cook the onion until it is soft and transparent.
Now for the hot bits: Add the curry powder and cumin seeds and cook for another minute. Then stir in the flour and let this cook for approximately 30 seconds.
Take the pot off the heat and gradually add the stock stirring well to ensure that no lumps occur.
Return the pot to the heat and cook while stirring and the sauce starts to bubble and thicken.
Add the cream, chutney, sweet potato and chicken meat. Let this simmer together for 5 minutes and then season to taste according to your preferences.
Remove from the heat and let the filling cool completely. It is very important that the filling is cold before placing it on the pie pastry otherwise the pastry will go soggy.
Divide the pastry into two portions. Roll out the one half on a lightly floured surface until it is large enough to cover the base and sides of a 23 cm (9 inch) pie dish.
Line the dish with the pastry and spoon the chicken mixture into the base.
Roll out the other half of the pastry to cover over the top of the pie.
Brush the edges with water and press together.
Trim the edges with a knife.
Brush the top of the chicken pie with the milk and bake for 40 minutes or until the top is golden.
More Chicken Pie Recipes Info
For perfect mashed potato with your chicken pie try this
Mashed Potatoe Recipe
Spicey Chicken and Potatoes
See my tips for
buying Chicken
and
cooking chicken
.
Chicken Pie Recipe Collection
Top Of this Curried Chicken Pie Recipe
Back to Chicken Curry Recipes
Chicken Recipe Search Tool
If you can't find what your're looking for, you might want to try our easy-to-use Chicken Recipe Search Box. You can also use it to find anything else you might want to search for on the wider web.
Great Chicken Recipes Homepage