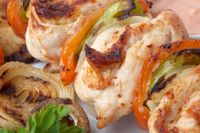 Chicken Kebab Recipe
Indian-spiced Chicken Kebabs with Coriander-mint Sauce
I found this delicious Indian Spiced Chicken Kebab Recipe while searching through a friend's recipe collection. Kebabs require a bit of extra preparation with marinade and threading them onto the wooden sticks but they are worth the effort.



The recipe below includes a corinader-mint dipping suace that goes so well with the fragrant tikka curry marinade. You can also thread pieces of vegetables such as zucchini (baby marrow) or green peppers or dried apricots between the chicken breast cubes. (See photo above).
This chicken kebab recipe makes approximately 16 kebabs depending on whether or not you use vegetable pieces inbetween the chicken meat and how long your kebab sticks are.
Preparation time: 40 minutes, plus marinating time about 2 hours
Cooking time: 10 minutes
Coriander Mint Sauce Ingredients
125 ml fresh mint
125 ml fresh coriander
15 ml lemon juice
12 ml freshly grated ginger
1 small green chilli, seeded and finely chopped
75 ml natural yoghurt
Chicken Kebab Marinade
125 ml natural yoghurt
45 ml tikka curry paste
30 ml olive oil
2 cloves garlic, crushed
10 ml freshly grated ginger
2 ml cayenne pepper
8 chicken breast fillets cut into cubes
How To Make Chicken Kebabs and Corinader Mint Sauce
To make the Coriander Mint Sauce: Process all the sauce ingredients in a food processor until smooth and refrigerate.
Mix all the ingredients for the kebabs except the chicken cubes in a large bowl.
Add the chicken breast cubes to the marinade and stir to make sure they all get coated.
Cover and marinate for two hours or overnight in the refigerator.
Preheat the oven grill.
Thread the chicken onto wooden skewers and grill for approximately four minutes on each side or until you can see the chicken is cooked through. Not too long though or you'll dry them out.
Serve warm or cool with sauce.
Chicken Recipe Search Tool
If you can't find what your're looking for, you might want to try our easy-to-use Chicken Recipe Search Box. You can also use it to find anything else you might want to search for on the wider web.


Top Of This Chicken Kebab Recipe

Another Chicken On A Stick Recipe

More Indian Chicken Recipes Including Chicken Curries