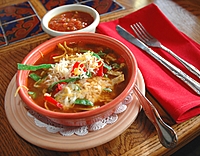 CrockPot Chicken Tortilla Soup Recipe
Spicy Mexican Chicken Soup Recipe With Tortillas
This popular Mexican soup is a favourite with kids. Try Crockpot Chicken Tortilla Soup at your next Mexican theme party. If you like chilies, it's a good crock pot chili recipe that is easily adjusted to your taste.
Be Inspired To Use Your Slow Cooker For This Spicy Mexican Soup


Crockpot Chicken Tortilla Soup Recipe Ingredients
Tortillas are perfect to have with your favourite soup. You can make your own tortillas or buy them. Tortillas are said to be the national bread of Mexico and is made from maize or corn flour. They are thin, unleavened flatbread and coked on a hot griddle.
Serves 4
1 whole cooked chicken
1 can Cream of Chicken Soup
1 chopped onion
1 crushed clove garlic
1 can whole tomatoes
4 chopped green chillies (more if you like it hot)
2 cups water
1 cup Enchilada sauce
1 cup frozen corn
1 tsp cumin
salt and pepper to taste
extra chili powder if you need fire
10 corn tortillas cut into 1/4 inch strips
2 tablespoons vegetable oil
chopped cilantro or parsley to garnish.
enough grated / crumbled cheddar cheese for each serving
How To Make Chicken Tortilla Soup
Remove the meat from the chicken and discard the bones.
In the Crock pot or slow cooker, place the chicken meat, whole tomatoes, enchilada sauce, onion, green chilies and garlic. Add the water and the other seasonings and then stir in the frozen corn.
Cover and cook on LOW for 6 to 8 hours or on HIGH for 3 to 4 hours.
When the soup is nearing then end of its cooking time,lay the tortilla strips on a baking tray and lightly brush with vegetable oil. Bake until crispy at 400 F, turning frequently.
Remember to remove the bayleaf from the crockpot before serving the tortilla soup!
Serve in soup bowls and garnish with the tortilla chips, grated cheese and cilantro or parsley.
More Chicken Soup Recipe Ideas


Mexican Chicken Recipes CollectionMexican Chicken Recipes Collection

Stove top Chicken Tortilla Soup Recipe

More Chicken Soup Recipe Ideas

More Chicken Chili Recipe Ideas

Top of CrockPot Chicken Tortilla Soup


Crock Pot Recipe Mainpage


Find Your Favourite Soup Recipe
If you can't find what your're looking for, you might want to try our easy-to-use Chicken Recipe Search Box. You can also use it to find anything else you might want to search for on the wider web.