Roasted Chicken Recipe
Lime and Garam Masala Roasted Chicken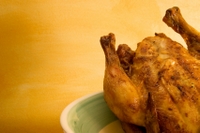 My neighbours chicken recipe: This Lime and Garam Masala Roasted Chicken Recipe is a regular dish they cook and being experts with spices, it's always a treat to sample their food.
I love my neighbours, they are extremely warm and generous people who are always willing to help, share and go out of their way to include us in their family.

Roast chicken recipes are my favourite and I'm always experimenting with different flavour combinations in rubs and marinades. See here for more roast chicken recipes and cooking tips. I enjoy using grapeseed oil to cook with but you can use any cooking oil you prefer. Another snag in this recipe is getting the limes. I had to go to a market instead of the store but in actual fact this turned out to be a bonus as I came across a lot of local farmers who sell fresh produce and I got to meet some great people and support the local community.

Masala Roasted Chicken Ingredients

2 - 2,4kg whole chicken
30ml Oil
1 large tomato, chopped
30ml tomato paste
5ml ground cumin
5ml ground coriander
5ml ground garam masala
2ml salt
15ml fresh ginger, grated
2 cloves garlic, crushed
1 lime, zest and juice
How To Cook Masala Roasted Chicken

Only turn on your oven when you are ready to roast and the chicken has been in the refrigerator for the required time.
Pat the chicken dry using some kitchen paper.
Place the cooking oil and all of the remaining ingredients into a food processor and blend them into a paste.
Rub half of the paste over the chicken. Cover the chicken and place in the refrigerator for 2 hours or overnight to marinade.
Take the chicken out of the refrigerator one hour before roasting.
Preheat the oven to 180 degrees Celsius or 375 degrees Fahrenheit.
Roast in a preheated oven for approximately one and a half hours, or until the juices run clear when the chicken meat is pierced. Baste with the remaining paste during the cooking time. Serve with lime wedges and fresh coriander.
Spicy Thai Roasted Chicken Recipe

More Curry Chicken Recipes

Roast Chicken Recipe Main Page

Top of Roasted Chicken Recipe
Chicken Recipe Search Tool

If you can't find what your're looking for, you might want to try our easy-to-use Chicken Recipe Search Box. You can also use it to find anything else you might want to search for on the wider web.
See my tips for buying Chicken and cooking chicken.

Top of Roasted Chicken Recipe