Quick and Easy Chicken Curry Recipe
When You Need Curry In a Hurry

Thanks to my friend for these two Chicken Curry Recipes. Both are fairly quick and easy to cook on the stove top. Because I'm not much of a hot curry fan, I end up tweaking my recipes for chicken curry to suit my taste and heat tolerance.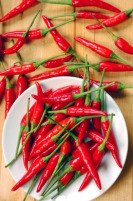 As with every chicken curry recipe, your spices must be as fresh as possible. This curry recipe is easy and quick and you can prepare bigger quantities to freeze.
Chicken Curry Ingredients

Serves 6
1 large onion, chopped
a little oil
1 tablespoon curry powder or adjust to suit your taste
1 teaspoon tumeric
1 teaspoon ground ginger
6 chicken portions (chicken thighs are good)
1 clove garlic, crushed
4 fl.oz/125ml dry white wine
1 large can whole peeled tomatoes (16oz)/410gm
salt and pepper to taste
2 tablespoons chutney
Chicken Curry Cooking Instructions

Heat some oil in a pan and gently cook the onion until it softens.
Stir in curry powder, turmeric and ginger while its still cooking. Keep stirring for a minute or so to allow the flavours to mix.
Add the chicken portions to the curry and stir gently to get the curry sauce covering the chicken.
Add garlic, wine and tomatoes to the pan.
Cover and simmer gently until chicken is done, about 40 minutes.
Taste the chicken curry and adjust the seasoning to suit your needs, then stir in the chutney.
Serve with rice and sambals.
---
Creamy Chicken Curry Recipe

I love a creamy chicken curry and the coconut cream in this recipe does add such an amazing flavour to the curry. Many curry lovers will attest to the fact that curry is so much better the next day or the day after that so any left-overs will be enjoyed.
vegetable oil for frying
2 finely sliced onions
2 cloves of crushed garlic
30ml freshly grated ginger
5ml tumeric
400ml coconut cream
10 fresh curry leaves
4 thickly sliced chicken breasts
Juice of one lemon
handful of chopped fresh basil
2 handfuls of baby spinach leaves
How to Cook Creamy Chicken Curry
Coat the bottom of a large lidded pot with the vegetable oil. In the pot, with the lid on, fry the onions and garlic for about 5 minutes or until the onion is translucent and starting to brown.
Stir in the grated ginger and tumeric. Add the coconut cream, curry leaves and chicken breasts.
Simmer gently on the stove top with the lid on for half an hour.
When you are ready to serve, add the lemon juice, basil and spinach leaves to the chicken curry. Season to taste and serve with your favourite rice variety - I'm fond of basmati rice.

Chicken Curry Recipes Collection