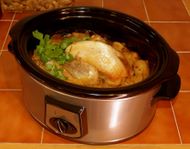 Crock Pot / Slow Cooker Recipe Books
Find Slow Cooker Recipe Books
There are loads of lovely Crock Pot / Slow Cooker Recipes to be found on the internet for free. If you have the timeand inclination you'd probably never run out of great Slow Cooker meal ideas just from the free ones.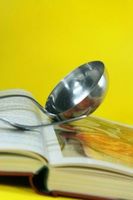 Perhaps though, you are like me and feel that there is somethingspecial about cooking with a cook book full of tried and trusted recipes. I think it's the well worn pages stained with the memories of years of cooking that make a cook book worth handing down to your children.
Cookbooks become part of your kitchen and you treasure them as theygive great results. The pictures are a guide to the finished meal and your family and friends show approval by coming back for more.
For many busy people, the Crock Pot is a life saver and new meal ideas keep cooking interesting. The following collection of Slow CookerRecipe Books are well known and good value. Take time to choose theone (or two) best for your needs.


---
For Good Slow Cooker / Crock Pot Cooking
125 Best Vegetarian Slow Cooker Recipes
A practical guide to slow cooker cuisine features an array of vegetarian recipes such as Louisiana Ratatouille, Cider Baked Beans, and Meatless Moussaka, along with information on the basics of slow cooking and common pantry ingredients.

---
America's Best Slow Cooker Recipes by Donna-Marie Pye, ISBN 0778800229
America's Best Slow Cooker Recipes features over 125 newly developed and tested recipes. Banish the winter blahs by making 'Beef Goulash Soup with Red Wine' or 'Comfy Maple Baked Beans.' Busy families will enjoy the 'Chicken and Broccoli Casserole' or 'All Day Mac & Cheese.'
When entertaining dazzle your guests with a 'Hot Crab, Artichoke & Jalapeno Dip' followed by a tantalizing 'Pork Roast with Peach Chutney.' Sensational recipes for desserts such as 'Chocolate Chip Peanut Butter Cake' and 'Caramel Peaches' can also be created in a slow cooker. These are recipes for today's tastes and today's homes.
As well as including fabulous recipes, "America's Best Slow Cooker Recipes" contains useful information on the type of slow cookers available, food safety, tips for success, adapting favorite recipes, and leftover hints. Recipes for accompanying delicious side dishes are also included.
---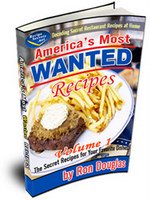 Looking for ideas for dinner?
Get inside the hidden cookbooks of America's favorite restaurants. The secret recipes for over 100 all-time favorite dishes have now been revealed in this best-selling new cookbook.
Prepare dishes you know they'll love and save money by easily making them at home.
Get free sample recipes just for visiting the site.
See the full list of Americas Most Wanted Secret Recipes


---
Looking for ideas for dinner?
Cook better, look better and feel better with recipes that are tempting to serve and taste great! Give up nothing except fat and calories. Get fitness ideas that are fun and easy.

Crock Pot Recipes Homepage

Chicken recipes Homepage