Crock Pot Jerk Chicken Recipe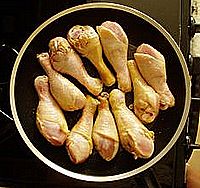 Jamaican Cooking in a Crock Pot
This Crock Pot Jerk Chicken Recipe has been adapted from the traditional Jamaican Jerk Chicken Recipe. Jerk is a Caribbean method of cooking perfected by the Jamaican slaves. It's a barbecue style of cooking where marinaded meat is cooked over an open fire. Here we use the crock pot so no open fires but still has the great spicy, barbecue chicken taste.

Okay so I am a sissy when it comes to spicy foods but this jerk chicken marinade is seriously yum. The chicken comes out amazingly and incredibly tender.  I love that I just have to add my ingredients to the slow cooker in the morning and have a delicious dinner waiting for me. Usually jerk Chicken has to marinaded forever but here it get's marinaded while it cooks slowly for the day.  Can it seriously be this easy?
I would suggest you use chicken thighs or chicken legs for this recipe. They stay moist and have a better flavor. Chicken breast meat tends to dry out a bit, especially when cooking it for so long. I tend to use my crock pot a lot more in Winter, for warm comforting stews. Save the juices in the crock pot to pour over the rice that you serve the chicken with.
---
Jerk Chicken Ingredients
1 large onion, cut into 8 pieces
1 generous tablespoon chopped crystallized ginger
1/2 to 1 habanero chili pepper (adjust for your preferred heat)

1/2 teaspoon ground allspice
2 tablespoons dry mustard
1 teaspoon freshly ground black pepper
1 tablespoon cooking oil of your choice (I like olive oil)

2 tablespoons red wine or balsamic vinegar
2 tablespoons soy sauce
2 cloves garlic, crushed and minced
8 chicken pieces
How To Cook Crock Pot Jerk Chicken
Combine onion and ginger in a food processor; process until finely chopped. Add remaining ingredients, except the chicken pieces, and pulse until well combined. Place chicken in a 3 1/2-quart (or larger) slow cooker/Crock Pot and cover with sauce. Cover, set on low, and cook for 6 to 8 hours or until chicken is tender (3 to 4 hours on high).

Chicken Recipe Search Tool

If you can't find what your're looking for, you might want to try our easy-to-use Chicken Recipe Search Box. You can also use it to find anything else you might want to search for on the wider web.

Top Of Crock Pot Jerk Chicken Recipe

Crock Pot Recipes Main page

Chicken Recipes Home Page