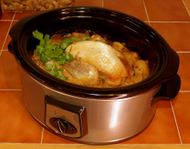 CrockPot Chicken Recipe with Cider
Chicken Pieces Slow Cooked in Apple Cider
A different meal idea - CrockPot Chicken Recipe with Cider has the chicken breasts or thighs cooking in cider and chicken stock. This results in a lovely sweetish sauce and a great flavour



This is a perfect chicken dish to serve on a winters evening with mash potatoes or rice or even fresh bread. It'll serve about 4 people.


Crockpot Chicken Recipe Ingredients
1kg (2 lb) chicken pieces (thighs or breasts)
10 pickling onions
3 sticks of celery
8 oz (200g) butter beans
1 tsp (5ml) tarragon (dried)
1 pt (1/2 litre) apple cider
2 pt (1 litre) chicken stock
2 tbsp (40ml) cornflour
How to cook Crock Pot Chicken in Cider
Peel the pickling onions but keep them whole.
Chop up the celery and place them with the onions, butter beans, chicken and tarragon in the crock pot / slow cooker.
Bring the cider and the stock to the boil in a pot on the stove and then pour around the chicken. The chicken stock and apple cider liquid mix should be enough to cover the chicken completely.
Cover and cook on a the medium to high setting for 4 hours.
About 15 minutes before the end of the cooking process, blend the cornflour with a bit of water and add to the liquid in the crock pot. This will thicken up the sauce. Serve with rice and steamed vegetables.
Another Tarragon Chicken Recipe
Top Of Crockpot Chicken Recipe in Cider
Roast Beer Can Chicken Recipe
Crock Pot Recipes Mainpage
Great Chicken Recipes Homepage