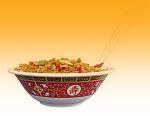 CrockPot Chicken Recipe
Crock Pot Sweet and Sour Chicken Recipe
Easy Sweet And Sour CrockPot Chicken Recipe. The wonderful thing about a crock pot / slow cooker is that you can adapt so many different recipes from around the world quite successfully.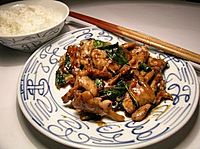 This Chinese recipe for Sweet and Sour Chicken works just fine in the crock pot. It feeds about 6 people and works well served with rice. If you enjoy Chinese recipes, then you might like to look at Real & Healthy Chinese Cooking This recipe was kindly supplied by them and makes approximately six servings.


Sweet and Sour Chicken Recipe Ingredients
:
1 1/2 Cups baby-cut carrots
6 large boneless, skinless chicken thighs (about 2 lbs.)
1/2 tsp. crushed red pepper flakes
1 1/3 Cups sweet & sour sauce
1 (20 oz.) can pineapple chunks in juice, drained
1 (1 lb.) bag frozen stir-fry bell peppers and onions, thawed and drained
6 Cups hot, cooked rice
Sweet and Sour Crock Pot Chicken Cooking Instructions:
Place carrots in 3 1/2-4 quart crock pot.
Top with chicken, sprinkle with red pepper.
Cover and cook on LOW heat 6-7 hours or until juice of chicken is no longer pink when centers of thickest pieces are cut.
Remove chicken from cooker; drain and discard liquid from cooker or keep it as a stock to use in another chicken recipe.
Return chicken to cooker. Pour sweet & sour sauce over chicken.
Top with pineapple and stir-fry vegetables.
Cover and cook on HIGH for 45-60 minutes or until carrots are tender.
Serve with rice.
Source: "

Real & Healthy Chinese Cooking

" -

Nicholas Zhou's cookbook

with

500+ low carb and low fat recipes with 170+ colorful pictures. Based on a master chef's 40 years of cooking practice and 4 years of writing and research, it has helped 12,800 people worldwide improve their health.
More Sweet and Sour Chicken Recipe Info
Sweet and Sour Chicken Stir Fry
See my tips for
buying Chicken
and
cooking chicken
.
Crock Pot Chicken Recipes Collection
Chinese Chicken Recipes Collection
Chicken Recipe Search Tool
If you can't find what your're looking for, you might want to try our easy-to-use Chicken Recipe Search Box. You can also use it to find anything else you might want to search for on the wider web.
Top Of
Sweet And Sour CrockPot Chicken Recipe
Chicken Recipes Homepage